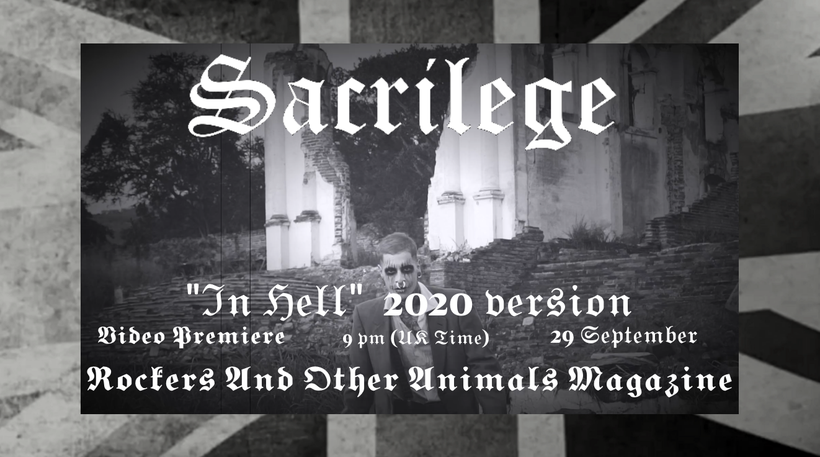 The legendary SACRILEGE band, presents the brand new music video for "In Hell" with the new 2020 version of the piece.
"In Hell" is the new version of the track already presents in the album "six6six" (2015 - Pure Steel Records)
After the sumptuous video for "The Court Of The Insane", this time the band took a darker, more minimalist line to give more attention to the sound of the track.
"In Hell", the exclusive premiere on Rockers And Other Animals Magazine.
As in the last video, "In Hell" contains a basic concept that is present in the society, in fact "In Hell" exposes the basic concept of mental anguish, delicately balanced on the thin line between depression, suicide and madness.  The video presents the extremes of the mind in against a gloomy backdrop; an asylum or an abandoned house, a cemetery. A mother and two little girls, hostages of an evil character, the devil or a simple jailer?
We lead you through a mental labyrinth in which one does not understand where the physical pain ends and where the fiction begins.
The release date of the video is  tonight, 29 September, as it is the fourth and last night of Tregenda in North Europe, on the occasion of the autumn equinox, the night when all devils, witches and damned spirits meet to complete their evil deeds, the Pandemonium.
Song lineup:
Bill Beadle - Vocals & Guitar
Neil Turnbull - Drums
Jeff Rolland - Bass
Tony Vanner - Lead Guitar
Credits Video:
Producer: Valeria Campagnale (Rockers And Other Animals® - Insane Voices Labirynth di Valeria Campagnale®)
Editing Video: Valeria Campagnale
Video Script : Valeria Campagnale
SACRILEGE are:
Bill Beadle - Vocals & Guitar
Neil Turnbull - Drums
Jeff Rolland - Bass
Paul Macnamara - Lead guitar (ex Salem)