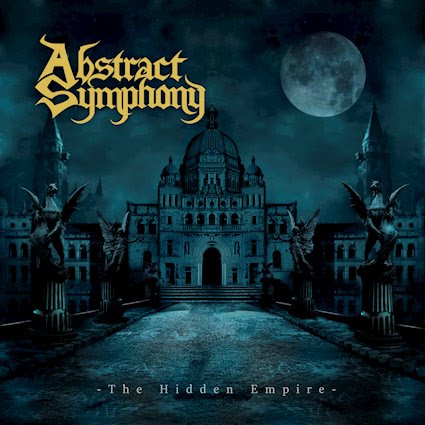 The Neo-Classical Firestorm from Valparaíso, Chile, ABSTRACT SYMPHONY, launch the first single, "The Hidden Empire," from their upcoming album "Tartaria: The Empire Hidden From History." The song features the vocal prowess of none other than Mark Boals who's iconic performance on Yngwie Malmsteen's "Trilogy" album has set a mark for Neo-Classical albums ever since. Boals delivers another classic performance on "The Hidden Empire" which fits perfectly with the high-velocity progressions of the band.

Founder Esteban Ulloa has set a standard with his writing and feels strongly about introducing the new single to the global masses:

"The new  Single  is a  great way for more people to get to know the band since Mark is on vocals. Having total freedom to write music for the band and not having any boundaries and having all the  support from RFL records makes it all better. With "The Hidden Empire" I made this song thinking about Mark Boals and how he would sing it, but never in my wildest dreams thought he would to end up singing it. Since this song is a couple of years old already I have always felt music deeply even before I played guitar, a dream come true for me and all of us in the band indeed . All of my influences came together in the best way in this song I´m sure that fans of Yngwie, Ring of Fire, Royal Hunt and Shining Black are gonna love it ."
The once Tribute band for Yngwie Malmsteen, created by guitarist Esteban Ulloa V., rapidly developed into a songwriting, melodic thunderstorm.
 
Over the course of their career, ABSTRACT SYMPHONY have been distributing their artistic talent, whether on stage or in the studio, across South America, while also being able to reach beyond the continent into Europe with their masterful recordings.

Throughout their live ventures, ABSTRACT SYMPHONY shared the stage with some of the greatest names in the Southern American Underground Metal scene such as: Criminal, Inquisition, Panzer and Undercroft.

September, 2017, became an important milestone in the band's growing influence, with the release of their debut album "Out Of The Ashes Into The Light", which was issued as an independent release. Locally, the band was deemed as one of the best 5 albums of 2017 in Chile, by the prestigious magazine, Rockaxix 

Listen - Download - Stream the new single "The Hidden Empire" here:

https://lnk.to/U3MwmuKL01 

Listen to the exciting cover for the classic Alcatrazz tune, "Jet To Jet"
Later on, in 2018, ABSTRACT SYMPHONY made their first official video to one of the high point songs out of their debut record, "The Master Of Sorrow".
Watch the official video of "The Master Of Sorrow":