CANCERFAUST
With two EP's under their belt (Killing Spree of 2016 and Watching You Die of 2018), the Poznan stationed panzer division Cancerfaust returns with their debut full length titled Let The Earth Tremble which proves that the five death merchants have not changed the path they decided to follow and have now delivered nearly forty minutes of top notch death metal.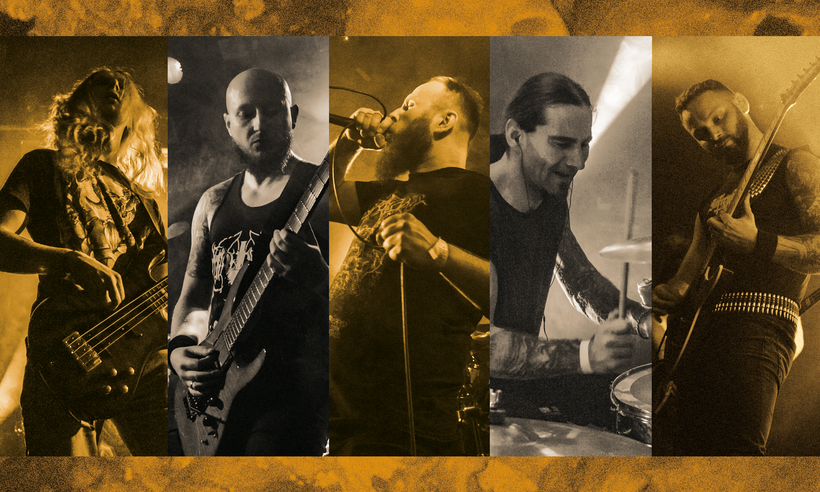 Both US- and European death metal scene inspired, Cancerfaust starts the album with a disturbing intro, relentlessly pushes forward on that high note with eight ruthless pieces combining classically brutal, lung-burning visceral vokillz, massive, thick and dense riffs and leads, mercilessly pummelling and bulldozing bass guitar and drum parts, and concludes with a sick outro. Ferocious and violent, truly impressive and appealing, uncompromising, formidably brutal and aggressive. Murderous and heavy as fuck, morbid and malevolent, falling clearly into the brutal death metal framework but reflecting the band's potential and their own approach to the relatively hermetic sub-genre. All in all, Let The Earth Tremble turns out to be an unrelenting, profoundly consistent, neck-wrecking and bone-crushing hell of a sonic monolith, an album that will instantly grab you, chew you and spit you out begging for more...

To relieve the waiting tension and frustration, the band and the label have made Into The Void, the first track off the upcoming release.
Let The Earth Tremble was recorded at MasterMix Studio (guitars and drums) in the spring of 2019, with vocals immortalised at Studio Megafon. Additional vocals delivered by E. of Cultum Interitum and V. of Above Aurora. The entire material was meticulously mixed and mastered by Mariusz Konieczny at Heavy Gear Studio (Pandemonium, Warfist) in the fall of 2019. The unobvious and intriguing artwork was provided by Dawid Figielek, and the logo was designed by Casus Artem.
The album will be physically (as jewel case CD) and digitally available as of August 31, 2020, and the Earth will actually tremble once the following eight tracks subside:
01. Ad Homine
02. Let the Earth Tremble
03. Into the Void
04. Blood for Gods
05. To the Pyre
06. Let Them Fall
07. Only Hatred Remains
08. The Curse
09. There Is Nothing
10. Ad Mortem

Line-up:
Tomasz Fabiszak – vocals
Adam Stodolny – guitars
Michał Pera – guitars
Kornel Maniewski – bass
Łukasz Wołodkiewicz - drums

FB: facebook.com/cancerfaust
BC: cancerfaust.bandcamp.com

PRE-ORDER: www.store.godzovwar.com
 
CULTUM INTERITUM
Godz Ov War Productions presents a new name on the label's roster – the Warsaw, Poland based, uncompromisingly sordid, death worshipping black metal outfit Cultum Interitum. Having started back in 2016 under a different moniker and following up on the independently released, promising 2017 Sorgspell demo tape as well as the 2018 Temple of Triumphant Death EP that further revealed their potential, the unholy three-piece cohort got under the wings of the label and is coming to spread the Poison of Being – their debut full length release.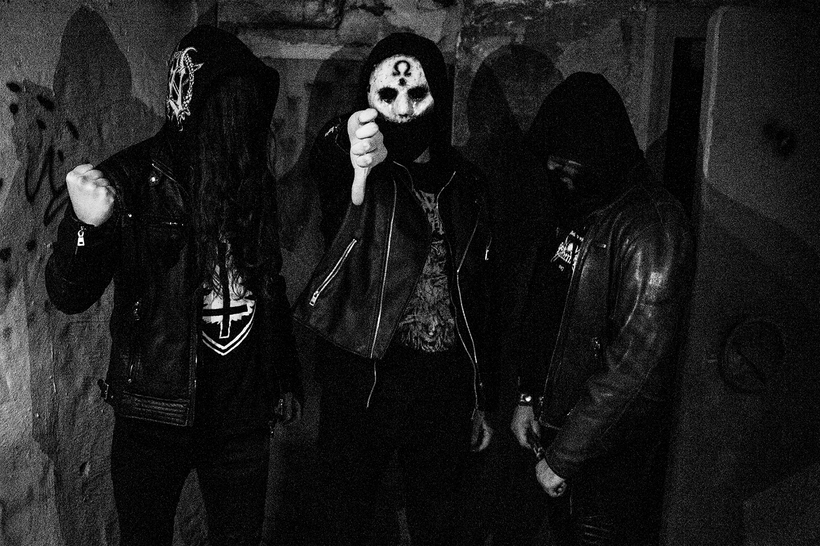 What characterises the album best are the overwhelming darkness, nihilism, misanthropy and inhumanity. E, SR and B do not open any new doors but they do let some 'fresh' air into the otherwise encoffined death / black space. The tracks just drown in grim, freezing cold, utterly demonic and evil aura, overwhelming and suffocating the listener with murderous, mid-paced, crushing and doom-laden black metal of death out of the very depths of hell, occasionally bursting with some straightforward blast beating, with virulent and barbaric guitars, maniacal and truly characteristic, nightmarishly deep and demonically low shouts, and simple but effective rhythm section. Wrapped up in an obscure, raw and organic yet highly selective and dynamic sound with an old school vibe, all those elements – amalgamated into six venomous necro cuts – make up for what runs in the members' black veins and emanates from their hateful minds: intense and sinister, instinctive, ominous and decimating, deathly black metal that conjures, cultivates and expands on the old traditions to praise death, desecrate the dead and eradicate the living...

Here's an appetizer for the upcoming, inexorable sonic madness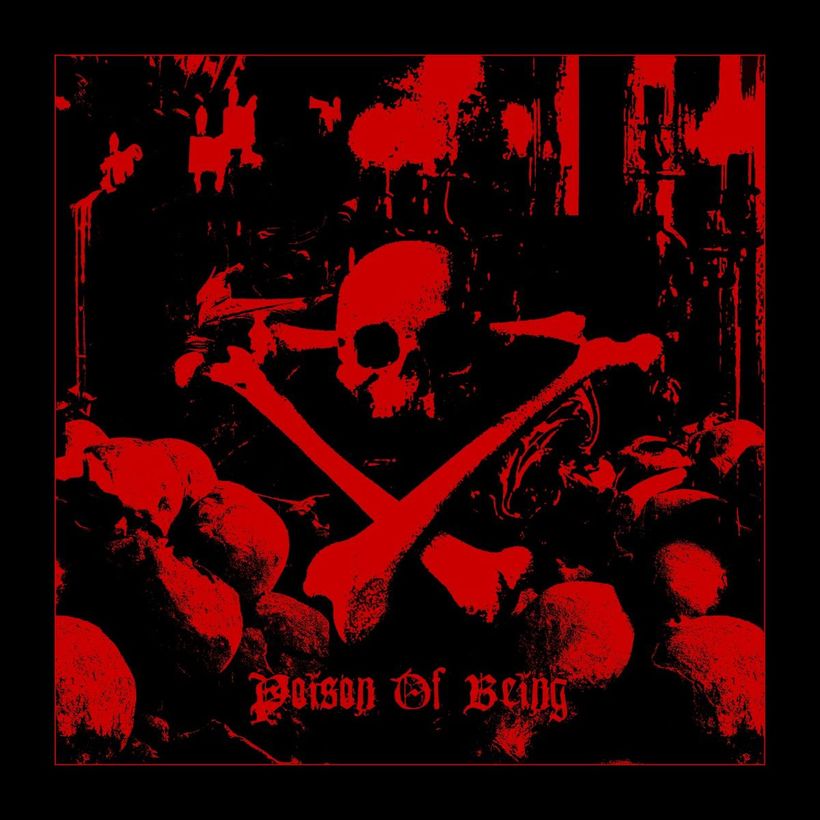 The opus, created by E. and K.M. between 2018 and 2019, with V. (Above Aurora) and N. (Summon, Kommando Baphomet) as guest vocalists on Souldesecration plus Funeral Womb and Desecration of Light, respectively, was adorned with some excellent artwork by Sotiris Kitsopoulos - Diablery / Hextek Design. Mixed & mastered by K.M., it will be released on CD on August 31, 2020, and it will also have its MC version via Nihilistic Noise Propaganda.

Here's the complete tracklist of the soundtrack to your apocalypse:
01. Souldesecration
02. Into the Ossuary
03. Funeral Womb
04. Poison of Being
05. Chalice of Omega
06. Desecration of Light

Line-up:
E - Voices, Guitars, Bass
SR - Guitars
B - Drums

FB: facebook.com/cultuminteritum
BC: cultuminteritum.bandcamp.com

PRE-ORDER: www.store.godzovwar.com
KOMMANDO BAPHOMET
After the highly acclaimed debut offensive featuring eight morbid Blood Gospels of Satanic Inquisition, the Portuguese unmerciful and deathly war machine known as Kommando Baphomet return to strike a deadly blow with their second full length titled Under the Deathsign.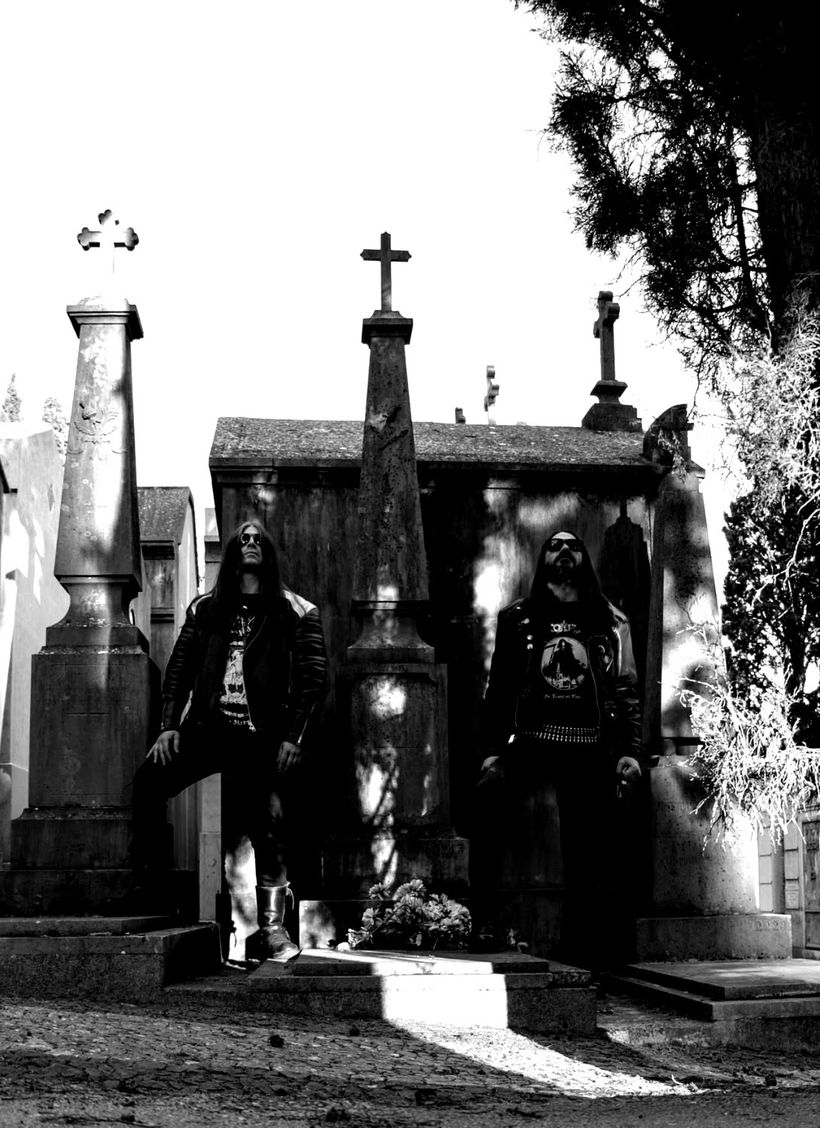 What the two executioners created in their irreversibly twisted and perverted minds, and then forged in their blood-dripping and carcass-reeking trenches, is an invincible black / death / war metal monster bound to annihilate with crunchy, slamming and devastating guitars, psychotic, hellishly deep and distorted vocals accompanied by unstoppable and crushing rhythm section, battlefield sound and sonic warfare atmosphere! No need to refer to any particular track, the whole album is but uninterrupted sonic onslaught indeed! So characteristic of N and Vulturius' previous output (spawned within various deathly ranks), those elements are also omnipresent, overwhelming and just as lethal on 'Under the Design'. In fact, there's more of everything, and its suffocating stench of pure iniquity, unimaginable intensity and brutality as well as macabre and ghoulish sound and aura (straight from the unfathomable abyss of old school caverns and catacombs) only take the whole stuff to a higher level. Pure evil has been unleashed, untamed ruthlessness has been unchained, and unprecedented barbarity has been unearthed.... The debut's 'intensity, chaos, blasphemy, cacophony and brutality' have been raised to the 666th power!

Before the album is eventually available in its entirety, you can listen to a prelude to the upcoming auditory torture – here's  Necrology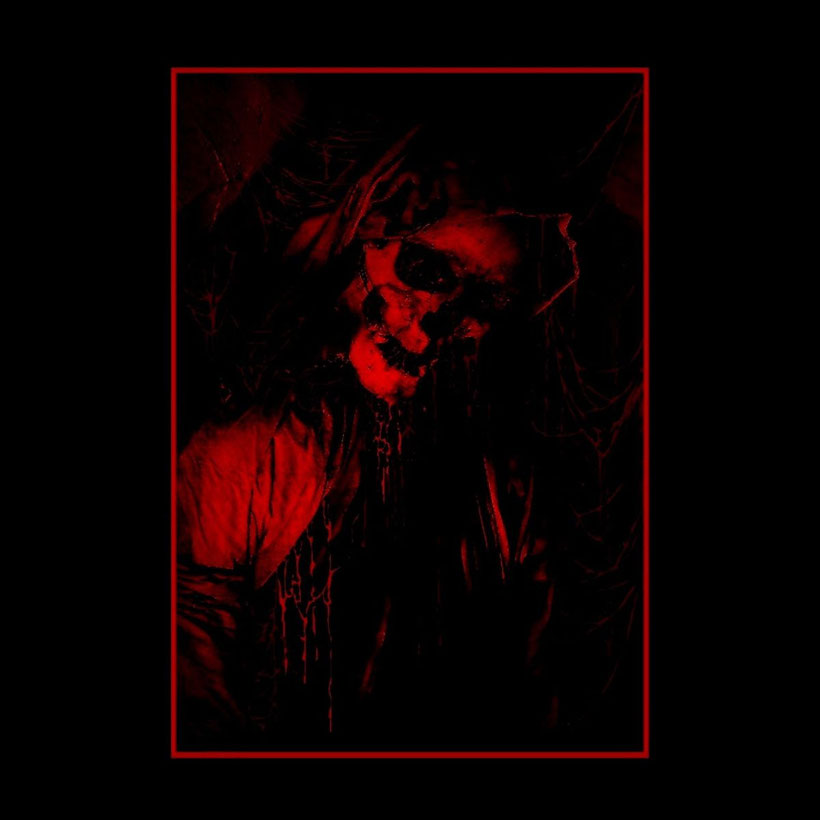 The album has been set to premiere on August 31, 2020 (on CD and in digital format), and it contains the following eight deadly bullets:
01. Necrology
02. Restos Mortais
03. Chapel of Bones (Part I)
04. Chapel of Bones (Part II)
05. Forged in Nightmares
06. Bleeding Evil
07. Encarnaçao Divina
08. Deathsign of the Kommando Baphomet

Line-up:
N. - Guitars, Vocals
Vulturius - Drums, Vocals

PRE-ORDER: www.store.godzovwar.com
WILCZYCA
If you still feel disgusted or unsatisfied after their debut album, we have bad news for you. August 31, 2020 is the premiere date for Wilczyca's old/new but still impure and unholy output titled Horda. The CD version comprises the five tracks already featured on the demo tape plus three extra cuts.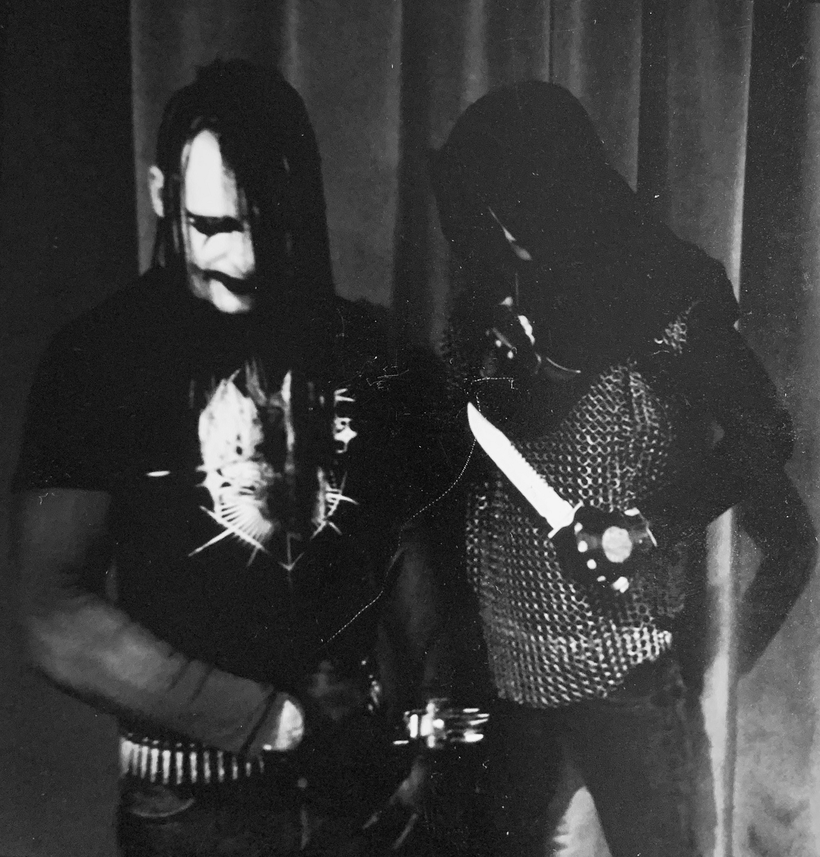 The two black metal purists did not rest on their laurels, on the contrary – while exploring and expanding on the very same blunt aesthetics, and applying the very same hideous, deceptively low-fi sound, they actually confirm and take advantage of their creative potential, imagination, skills and ideas. More importantly, the two enigmatic, undercover black metal mercenaries continue what they started with their very first release – maniacal, freezing cold and aggressive, sheer second wave black metal the way it was spawned to be! Most extreme, powerful, deathly, devilishly atmospheric and appealing creation to date. Wailing, berserker vocals, seething riffs, throat-cutting chords, lunatically rabid and wicked solos, skull-splitting bass work and pounding drums take the listener on a savage hell of a ride into the fathomless realms of black metal darkness and evil. Whether untamedly galloping at full speed or solemnly striding like a funeral procession, Wilczyca delivers pure black metal at its finest, drowning it in disturbing ambience and nightmarish soundscapes, leaving nothing but scorched earth and dead bodies behind, spreading the essence of black metal!

If you still are ready to join the forest hosts, do not hesitate and click the link below to howl along to the entire release: https://godzovwarproductions.bandcamp.com/album/horda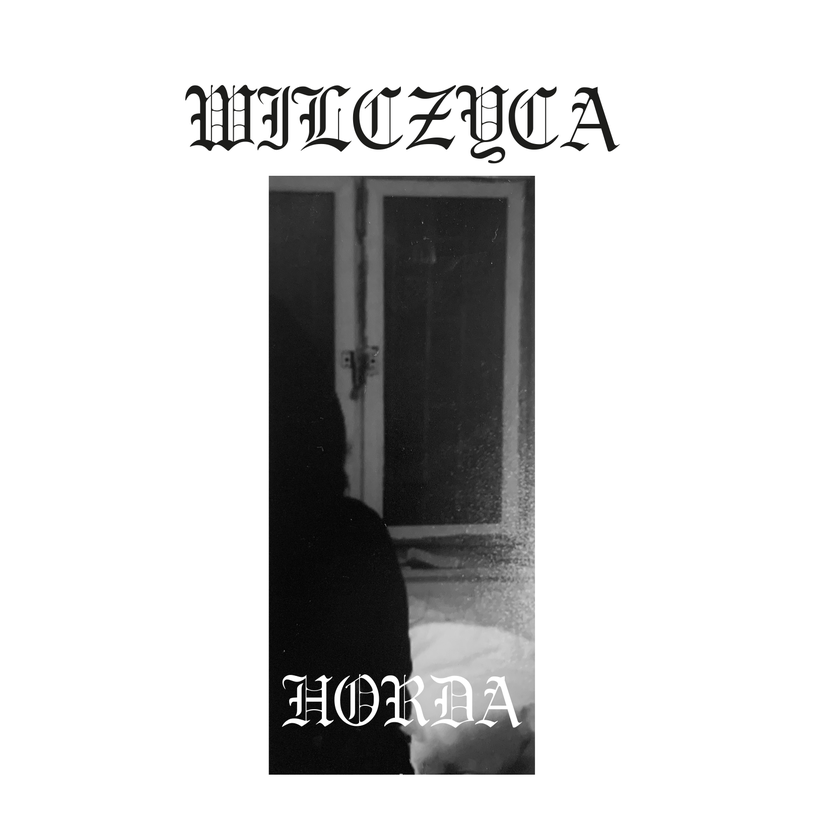 The material was composed, performed, recorded and produced during the COVID-19 pandemic in Warsaw, with Louve and Nidhogg behind the instruments, microphones and knobs. The graphic design was provided by Konrad Łukasik, the cover art was delivered by Michalina Malinowska.

The complete tracklist is as follows:
01. Wnyk
02. Horda
03. Echo
04. Miecz Na Pomazańca
05. Demon
06. Sic Luceat Lux
07. Śmierć Protestanckim Kurwom
08. Spłoniesz

Line up:
Louve - All Instruments
Nidhogg - Vocals

FB: facebook.com/wilczyca.kult

PRE-ORDER: store.godzovwar.com