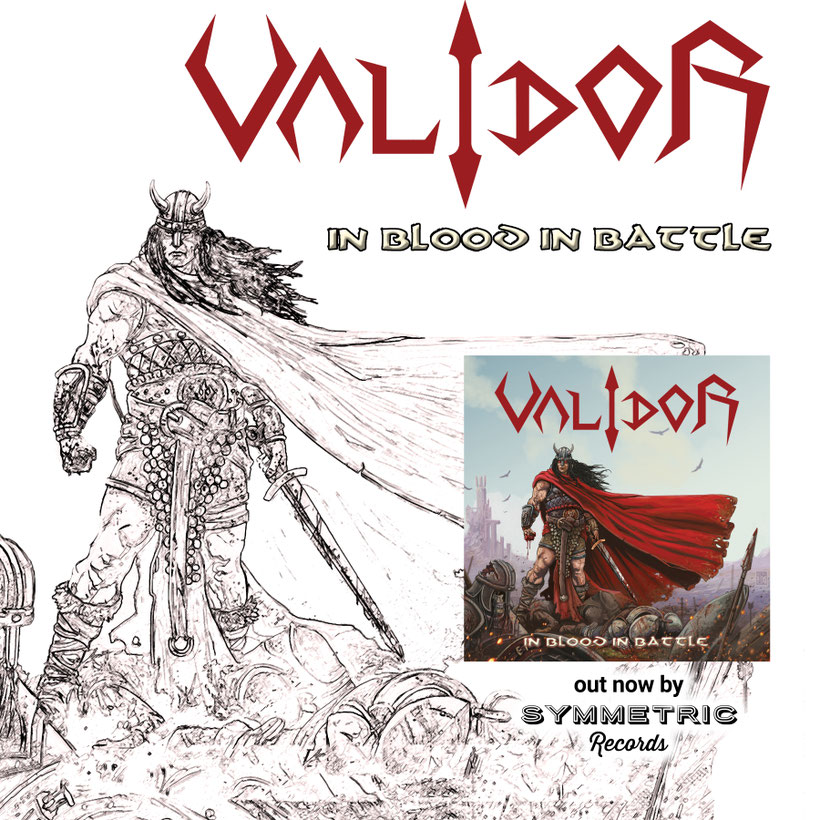 Bob Katsionis' Symmetric Records proudly presents the return of an underground cult legend: VALIDOR!

Having already released three studio albums: "In Blood In Battle" (2011), "Dawn Of The Avenger" (2012) and "Hail To Fire" (2016) and while recording their fourth one, the band decided to give justice to their debut which was produced on a limited budget back in 2009, by re-recording all drum, bass, and rhythm guitar parts, still keeping the original vocals and guitar solos intact to preserve the raw energy of the original.

The epic storytelling of bands like Virgin Steele and the raw power of Manowar is here combined with the galloping guitars of Iced Earth, the Dorian melodies of Running Wild and Blind Guardian, and even some thrash and speed metal passages to form the truly unique sound of VALIDOR!

This re-issue of their debut "In Blood In Battle" is not going to be available through any streaming service (like Spotify or iTunes etc.) and can only be ordered directly from Symmetric Records' Bandcamp website in digital or physical form on a Deluxe Digipak with an 8-page booklet here:

 

All Music & Lyrics by Odi Thunderer

LINE UP:

Odi Thunderer: Vocals, Guitar

Bob Katsionis: Lead Guitar, Bass, Keyboards

Apollo Giannoulis: Drums & Classical Percussion

CREDITS:

Produced and mixed by Bob Katsionis

Recorded Jan-Feb 2020 at Sound Symmetry Studio, Athens, GR

Mastered by Nasos Nomikos at VU Productions, Piraeus, GR

Artwork by Kostas Tsiakos (www.papergoblin.com)

Logo by Odi Thunderer

 

Originally released in 2011 by Eat Metal Records

 

In this album including the song "Stealer Of Souls".