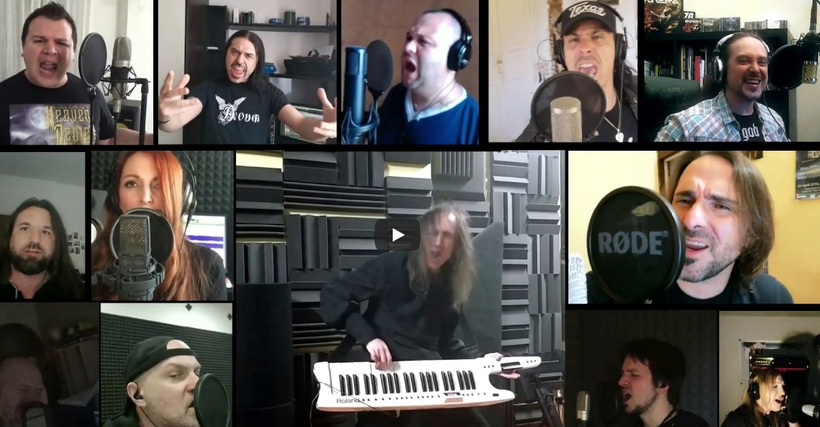 The virtuoso keyboardist Gabriels wrote and composed a single, which was attended by some of the best Italian artists, dedicated to the current situation and the proceeds will go to Civil Protection.
These are Gabriels words:
ITALIAN METAL FORCE is a single that I written and composed dedicated to the current situation that is upsetting the whole world. COVID-19 has changed everyone's lives. The donations to this single will go to CIVIL PROTECTION.
Here https://gabrielsshiro.bandcamp.com/album/italian-metal-force you can download it for free.
"A Personal thanks to all the musicians who collaborated and who have been close to me in this project, united we are the force of Italian metal."

ITALIAN METAL FORCE

Music and Lyrics by Gabriels

Line up


Gabriels: all the keyboards
Hydra (Aevum)): vocals
Gandolfo Ferro (Heimdall) vocals
Joe Caggianelli (Starbynery) vocals
Alfonso Giordano (Steel Raiser) vocals
Tiziano Spigno (Extrema) vocals
Chiara Tricarico (Moonlight Haze) vocals
Federica De Boni (White Skull) vocals
Jo Lombardo (Ancestral) vocals
Roberto Tiranti (Labirynth) vocals
Filippo Tezza (Chronosfear) vocals
Titta Tani (ex DGM) vocals
Iliour Griften (Heaven Denies) vocals

Andrew Spane (Shadows of Steel) guitars
Dino Fiorenza bass
Giovanni Maucieri drums

MIXED AND MASTERED BY GABRIELS
AT SOUNDIMENSION RECORDS STUDIOS

Info