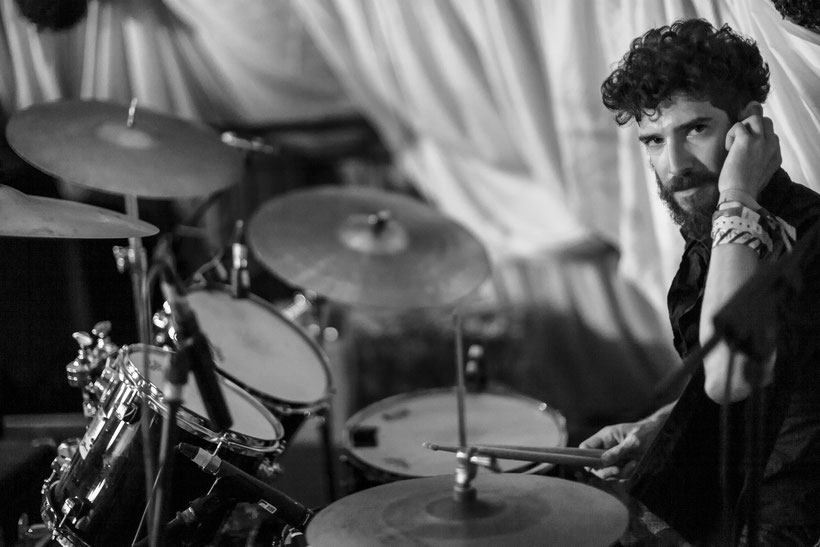 Does the Italian State consider musicians as workers? If so, perhaps not for its representatives? Legitimate questions to be asked more in this period of lockdown, in which one has to move for proven health and work demands.
It is commonplace, on Italian soil, to associate those who work in the musical world with acrobats, outcasts, without evaluating their artistic and intellectual skills, their works of genius and the sacrifices that are the order of the day for those who live in music.
The musician, as a profession, is again to be re-evaluated, to be questioned again in these months, those who work in the artistic field should not be considered clandestine and even less of second category.
In these days I've read from many places the disconcerting news that sees a member of the Italian band Ponzio Pilates. The musician has been fined for 'violation of restrictive measures' in contrast to the Covid-19 epidemic'.
Reason: that he went from one municipality to another, from the same region, to the place where the musical instruments are located to collect them, using them to play on Twich. This is also legitimate, as any public performance is forbidden.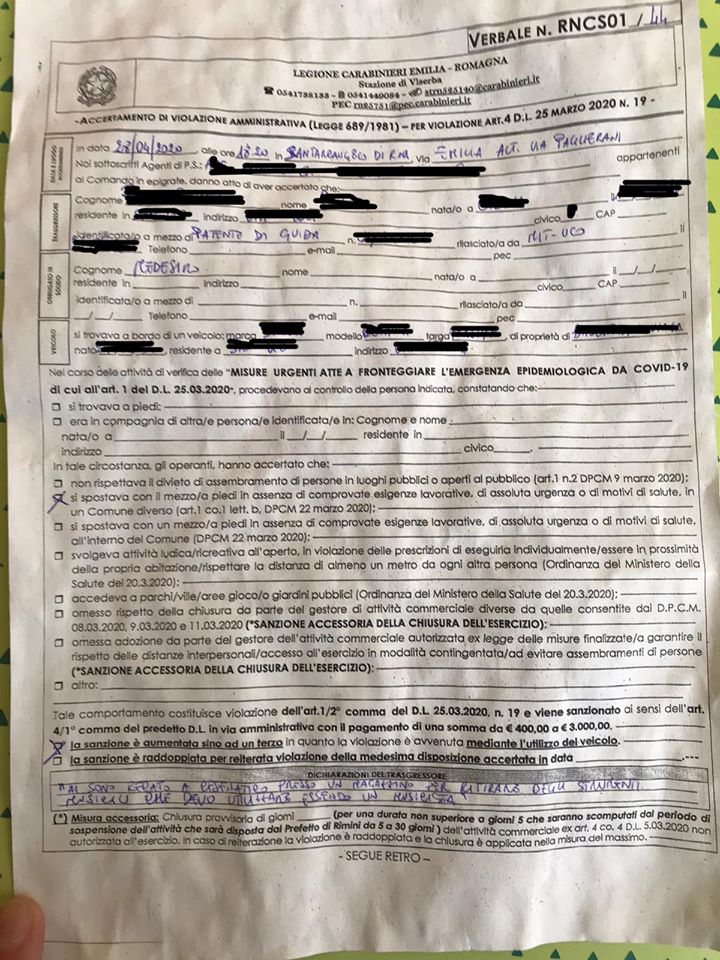 It's my personal rule of thumb, always asking permission to publish something about an artist's life and to deepen the events that happened, so I sent a message to the band that kindly made me clear what happened and talking directly with the protagonist of this absurd story that, surprise, surprise, is not the singer but the drummer Dimitri.

 

Hi Dimitri, first of all thanks for your availability and for wanting to clarify what happened last April 28th.
How exactly did things go?
I left from my home (San Leo, province of Rimini) to pick up my spare drums (not the one I use to do concerts, located even further away, in Ravenna) which was in Cesenatico in a private place that I used as a rehearsal room; I precompiled the two self-certifications of round-trip declaring that I was going to get the instrument to continue my activities as a musician (I wanted to keep myself in training first of all and we were planning to test the Twitch platform to do live live, albeit separate, in the hope of receiving some donations from fans). I made the road I usually make, the easiest and I don't think the shortest one, and here I definitely made a mistake; I also made a mistake in another point, that is that I didn't consider that, even if for a few kilometers, to get to Cesenatico I necessarily passed the province of Rimini (Cesenatico is under Forlì-Cesena).
On my return to Santarcangelo, following the road that I usually take, which is probably not even the shortest, I was stopped: the police asked me for a driver's license and asked me where I was going and why: when I explained to them the truth, that I had to take the battery to train and to do the live broadcast, they replied that without a paycheck or a document signed by a company that could prove that I was offering work at the same, there was no evidence of a proven need for work. I tried to show them some photos and videos that could prove that I was actually playing drums in a band and that in fact it was the job I wanted to do, especially in view of the live shows and the concert at the Sziget Festival, the only one still not officially cancelled, but they didn't (maybe rightly so) want to hear reasons.
So far "everything's fine", except that they said the famous phrase, the one that made my blood boil: "the musician is something you can do as a hobby, it's not demonstrable as a job". That phrase spun in my head the whole trip home and, as soon as I got there, with my anger now at a very high level, I did the live on Instagram of venting that has now made the rounds on several pages of online newspapers and blogs.

It's disconcerting that citizens are fined for having to move for personal and work needs and are in a position to give an explanation to those who are actually far from their work environment. It's a disorienting and chaotic period for every sector, the musical and cultural field is perhaps the most affected, not only in Italy, but there is still to mark the fact that in our country, who works in the music world, is not considered 'worker' according to the canonical schemes. How do you live this situation and to whom do you label musicians and people working in the sector, what do you answer?
Well, let's say it makes our blood boil enough, because nobody can imagine what it's like to be on the other side, at least until they try; we "at least", even if we share the same difficulties as the whole category of art workers, we have a "protagonist" role, we stay on stage, we have a contact with the fans. There are even more "unlucky" categories than us, "ghost" workers even when things are going well, let alone now... I'm referring to stage technicians for example, rodies, sound engineers, machinists...
Many, many, many artists, including writers, poets, theatres and various technicians are crushed by the prospect of constantly making debts in order to continue, especially for those who want to remain in legality, and often even if they remain in legality, however, you can not have the privilege of being recognized in their role, to be recognized the specificity and criticality of the profession by the state and, as if that were not enough, then be ridiculed by public opinion, often even by the same families and friends, as "people who go to have fun". Today perhaps, with this situation, someone is beginning to understand what it feels like to be left alone.
How is the contagion situation in your region? And what do you think about this prolonged lockdown?

In Emilia Romagna there are 25850 cases in total, with 3614 deaths... Fortunately, however, from what I understand, we can boast one of the best healthcare systems among the Italian regions...
This prolonged lockdown I think it is a symptom of a poor preparation of our country and in particular of our current government, somehow, I am not surprised: we are poorly prepared on many legal and governmental aspects, we have suffered continuous cuts to health care and infrastructure and we have the big problem of illegal work and mafia organizations ... it does not seem a case that we are still in almost total lockdown when Spain, France and Germany, for example, are already giving much more freedom from what I know.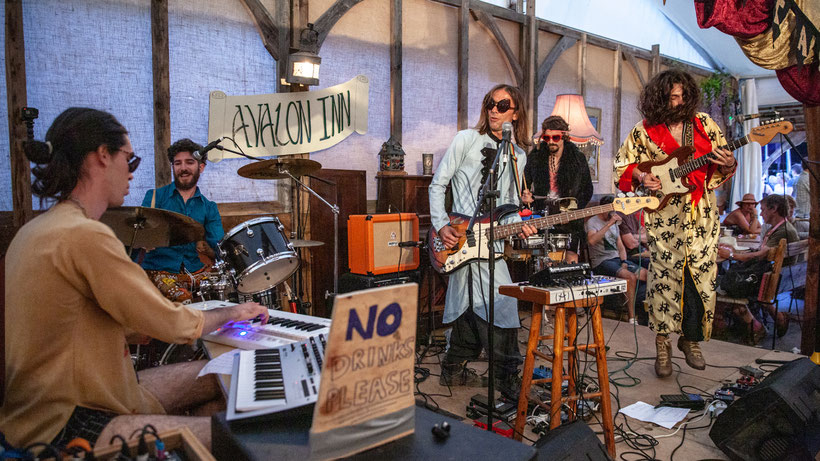 I take this opportunity to ask you to talk about the band, future plans and a bit of history. 

Our band was born in 2015 and has played for several events and festivals all over Italy: our "amateur" period, or "artistic promotion" so to speak, has developed in various points since the creation of our first "promo" album, Abiduga", available on streaming music platforms, continuing with the production of a "studio album", "Sukate", released last year for the label Brutture Moderne, for whose single we also created a video clip, "Vongole", which can be found on Youtube, and had to find its conclusion after the invitation to the very important ESNS Festival in Groningen this year, followed by the airing of our participation in Italia's Got Talent; we were in fact preparing to get into the heart of our professional life as professional musicians just starting from May 1, 2020, with the inauguration of a new tour that should have touched on interesting events such as participation in Artists In Piazza 2020, Home Festival, Sziget festival 2020 and many others. ..
Noteworthy were certainly the invitations to Glastonbury Festival 2019 and Mimi festival 2019.
For the future, by now disastrous present, we had various projects, now all inevitably destroyed by the world crisis; lately we have tried to approach the world of live performances on various platforms but, both for technical difficulties and for the impossibility to see ourselves live and to find our instruments, for some of us far from home, we realized that it will involve various difficulties and new stylistic modalities, especially for our peculiarity as a "live band" that, in the absence of an audience, is not able to express itself at its best... it will certainly not be a feasible thing today and tomorrow.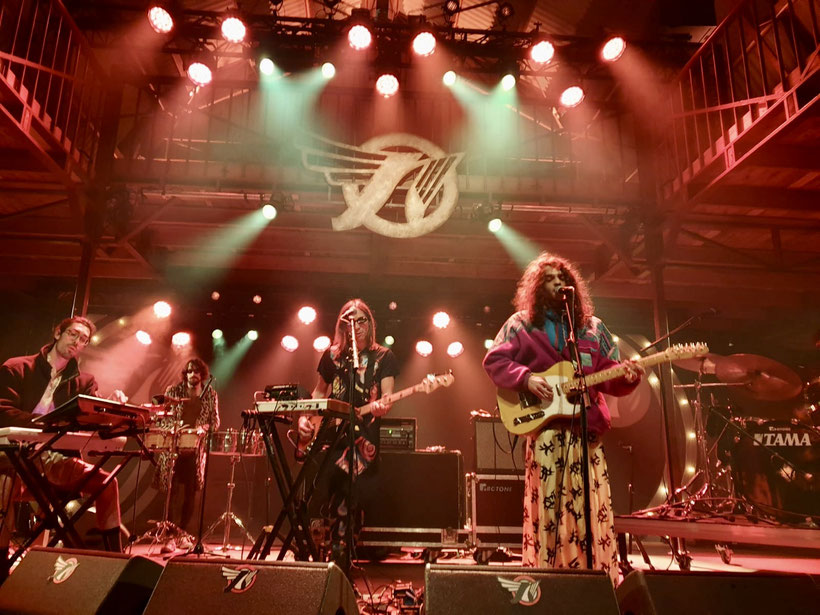 I thought it was my duty to shed light on this episode, above all for fairness towards the band that, like many in this period, doesn't ask to avoid the fine but simply that this ordinary cliché be highlighted so that being a musician, in Italy, is not equivalent to being a worker. It will certainly not be this small space in a webzine to change things, but it could be this story to unite the musicians not emblazoned, to join in chorus and give voice to a deaf state to the many insiders that revolve around the musical world.
Italy is fortunately not only San Remo, Italy music is an underground scene where there are many artists, club owners, PRs, managers and labels, the Italian worker does not necessarily have to wear a suit and tie, as the company has depicted for years.
Valeria Campagnale