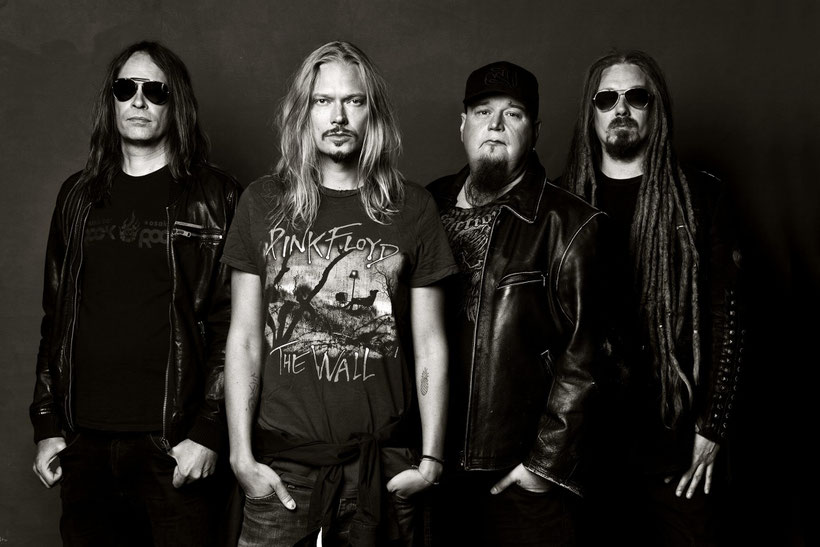 The new Flat Earth single "Draining by your flame" will be released 23 March 2020. Available through all major streaming services. Lyric video premier on Youtube 20 March 2020.

"Draining by your flame" is about waking up to the situation where the never-ending party has turned a bit sour, and the toll of self-indulgence is getting way too costly. I feel like the actions of surprisingly many of my close friends have taken a turn into a lot worse in recent years, and this has forced me to harshly reconsider my relationship with intoxicating substances, my way of taking responsibility and setting an example. In the lyrics of the song the final decision towards recovery is being made thanks to that one person who against all odds has stood by your side through the sickest times of your life. It's never too late to get better, but it takes humility, a lot of courage and absolute commitment." 
-Anthony
Heavy, melodic and passionate, Flat Earth is a hard rock band from Helsinki, Finland, founded by Ex-Amorphis bass player (Niclas Etelävuori) Ex-HIM guitarist (Linde Lindström) Ex-HIM drummer (Gas Lipstick) and Polanski singer (Anthony Pikkarainen). The band produces heavy riffs, blasting beats and cinematic chords that combine to create an unforgiving, passionate, and dynamic sound.
The band's debut single 'Blame' premiered on Radio Rock in 2018, immediately gaining popularity, throughout Finland and the rest of Europe. The single Cyanide followed in the footsteps of the debut single, gaining public recognition and earning them a spot opening for 'Alice in Chains', in Helsinki. To date, they have over half a million streams on Spotify, alone.
In the beginning of 2019, the band entered the studio to record the follow up to their debut album 'None for One'. This time with legendary producer Tim Palmer behind the mixing desk. With the album now complete, the band are ready to hit the road once again and unleash their finest creation, to the world.
Flat Earth's second album, is coming out in the fall of 2020.
Flat Earth is:
Anthony Pikkarainen - Vocals
(Polanski)
Linde Lindström - Guitar
(ex-HIM)
Gas Lipstick - Drums
(ex-HIM)
Niclas Etelävuori - Bass
(ex-Amorphis)
FLAT EARTH ON TOUR 2020
 
Due to the spread of COVID-19 all shows in April are postponed. Tickets bought for these dates are valid for the new dates, in case you want to return them contact your ticketing provider. May 29 On The Rocks (Helsinki) still remains as planned unless the situation gets worse.
Stay healthy!
 
Fri 29 May - On The Rocks Helsinki - Finland
Support:
Diamond Black (UK/FIN)
Rosecraft (FIN)
Tickets: https://www.tiketti.fi/flat-earth-diamond-black-rosecraft-on-the-rocks-helsinki-lippuja/68429

 
Wed 28 Oct - Forum Bielefeld - Germany
Support: 
Silverkord (UK)
Tickets: https://www.kapanen-production-store.de/epages/63925820.sf/de_DE/?ObjectPath=/Shops/63925820/Products/0814
Thu 29 Oct - Logo Hamburg - Germany
Support: 
Silverkord (UK)
Tickets: https://www.tixforgigs.com/de-de/Event/33500/flat-earth-logo-hamburg
 
Fri 30 Oct - Hellraiser Leipzig - Germany
Support:
Silverkord (UK)
Tickets: https://hellraiser-leipzig.de/produkt/ticket-flat-earth/?fbclid=IwAR3x3nLUt3pCS_fpKwJFnluCk6KhyVcMGH7ELGDcIHnnJbeKYLGAr5k8YHk
Sun 1 Nov - The Underworld Camden, London - UK
Support: 
Silverkord (UK)
Diamond Black (UK/FIN)
Tickets: https://dice.fm/event/k8kpl-flat-earth-28th-apr-the-underworld-london-tickets?_branch_match_id=732183337506043269