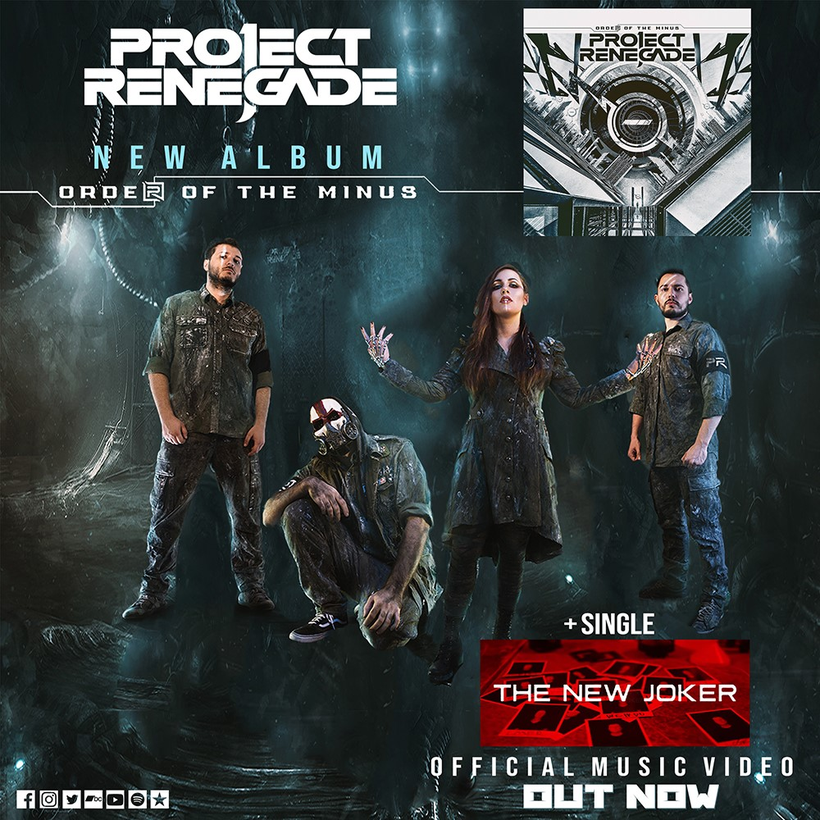 "The New Joker" is one of our - if not the most -beloved songs on our record "Order of the Minus". It deals with the reoccurring subject of "acting like a charlatan in order to be liked and feel loved, only to end up being cast out of the social norms and end up hating yourself, hating life and everyone around you". It dabbles into being bullied and confused all your life about what you truly see behind the wall of lies that people are trying to establish as the "norm". This song aims to inspire people to come together and rise above the darkness of this world as one, and to empower those in suffering to take a stand and fight back for a better life that we can enjoy in unity and peace. #unitythroughdiversity
Watch official music video here
Video Credits:
Directed by Angel Saft
Dancer/Monster: Roza
Faceless: Surehuinel, Nick K.
Faceless Photographs: Hope DiKappa
Backstage Photographer: Konstantinos Kapernaros
Backstage Photographer Assistant: Vasilis Kavouras
Backstage Video: Konstantinos Kapernaros
Make-up Artist: Katerina Vlachou
Make-up Assistants: Dimitris Anastasopoulos, Christine Peremislina
Hairstylist: Madam Pinky
Production: Crystal View Entertainment
MINI BIO: Project Renegade is a four-member metal band from Athens, Greece, founded by Marianna (vocals) and Ody (drums) and joined after by Nick K. (guitars) and Jay (bass). Project Renegade's sound derives from an alternative, heavy and groovy background blended with electronic and ambient elements. After releasing their debut EP "Cerebra" to high international critical acclaim, the band is set to release its first full-length album "Order of the Minus".
The band is performing live in Greece and Europe,
with participations in renowned festivals like Danube Rock Festival (RO), Over
the Wall Festival (GR), Iron Queens Festival (RO), Voices of the Succubi 2018
having also made a debut performance at Le Cercle Club (BE). On April 2019,
(MT) and the FEMME-Female Metal Event 2018 (NL), Ladies of Metal Festival (GR) they shared the stage of the famous Greek indoor venue "Piraeus Academy 117" with Bullet For My Valentine as special guest and participated afterwards at Milady Metal Festival (IT) with Mayan and Rock'n'Iasi (RO) with Harakiri for the Sky. On September 20th, 2020 Project Renegade played as special guest with Evanescence at Kiev, Ukraine.
Band Links:
Facebook Page: https://www.facebook.com/prenband  
Bandcamp Page: https://projectrenegade.bandcamp.com
Youtube Channel: https://www.youtube.com/channel/UCX5zHAKWh35oPsbHANEbI3w
Instagram: https://www.instagram.com/projectrenegadeofficial/
Spotify: http://bit.ly/Spotify_PRenegade
ReverbNation: https://www.reverbnation.com/projectrenegade