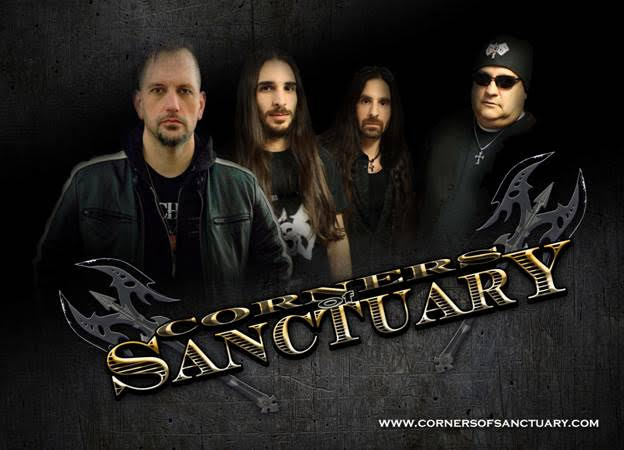 Philly rockers Corners of Sanctuary (COS) have announced that singer Stacey Lee will be accompanying the band on their upcoming UK tour this March.
The official word was made earlier this week while the band was interviewed on Rock Addict Radio's Keep it Metal Show.
"We are excited to announce that singer Stacey Lee will be joining Corners of Sanctuary's during our March UK string of shows," said COS guitarist Mick Michaels.
Lee, a Chicago native, with musical roots paralleling those of COS, was with the band during the interview. Keep it Metal Show host Billy Loney asked the singer how he came to connect with Corners of Sanctuary and get the job for the tour.
Lee responded, "When I first heard Mick say he was looking for a singer I jokingly messaged him and asked, "Does your singer have to be local?" He replied, "Well, it helps"…few weeks later he asked me to audition…then they asked me to join. I was deeply honored."
"Lee demonstrated right out of the gate that he had the chops for the job," said COS bassist James Pera. "Plus he was already a fan of the music… which goes a long way with connecting to what this band is about and looking to accomplish," Pera added.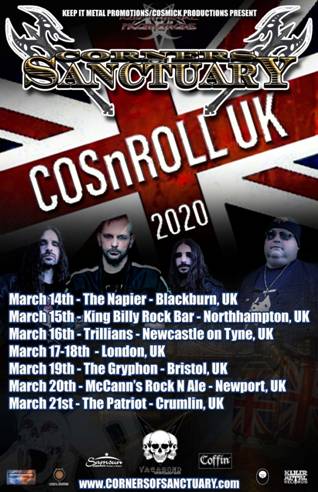 Corners of Sanctuary is scheduled to debut Lee on lead vocals fronting the band with a weekend of shows at the end of February. See full show schedule below.
"We are getting ready, then it's off to the UK," said COS drummer Mad T. "In typical COS style, we make the most of a moment and never look back."
The COSnROLL UK 2020 Tour is being presented by Keep it Metal Promotions and Cosmick Productions and is sponsored by the Vagabond Entertainment Group in association with Samsun Cymbals USA, Coffin Case and the Midwest Takeover Radio Show. The Tour kicks off at The Napier in Blackburn, UK on March 14th.

COS also announced that they will be dropping a new EP, "For COS and Country" as an exclusive release for the upcoming UK tour. As well, the band unveiled a brand new single, "The Raid (For God and Country) featuring Lee on vocals during the show.

When asked about whether or not Lee's addition is a permanent lineup for COS with the foreseeable future, Michaels replied, "Right now we are focusing on the UK tour and the shows we have lined up. Anything can happen…we are definitely hoping for the best."
"It's an amazing chance I have been given to work with the guys in Corners of Sanctuary.  They're dedicated and hard working and keeping classic Metal alive.  I can't thank them enough for the chance to hit the road and record with them," Lee added.
Check out Corners of Sanctuary at:
Official: www.cornersofsanctuary.com
Facebook: www.facebook.com/CornersofSanctuary
Twitter: www.twitter.com/COSnROLL
Instagram: www.instagram.com/cosnationmetal
Show schedule:
February 1st Vultures Feast Fest II Reverb Reading, PA
February 28th Dingbatz Clifton, NJ w/Face Without Fear
February 29th New Penny Scranton, PA
March 14th The Napier Blackburn, UK
March 15th King Billy Rock Bar Northampton, UK w/Syteria
March 16th Trillians Newcastle upon Tyne, UK
March 17th-18th London, UK
March 19th The Gryphon Bristol, UK
March 20th McCann's Rock Bar Newport, UK