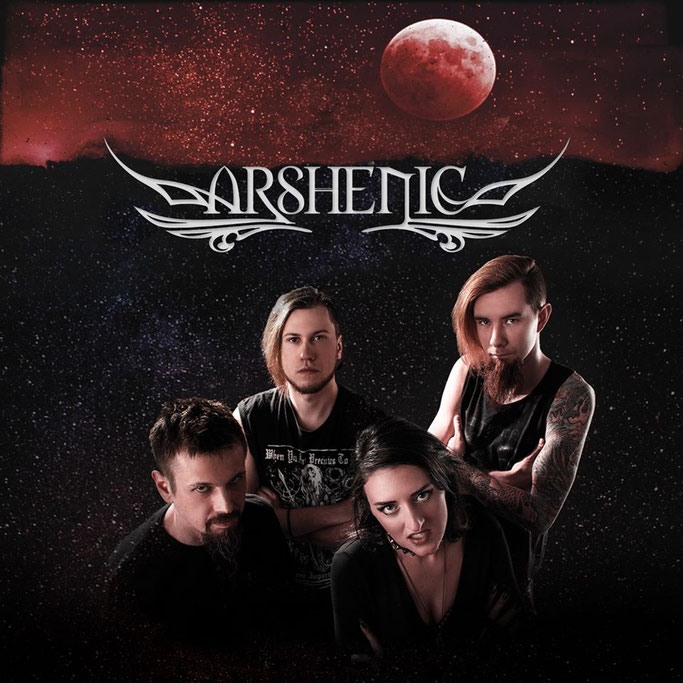 Arshenic is a Polish rock/metal band, and their music is based on experimenting with metal, goth rock, folk, progressive rock and electronic.
The name of the band is a reference to arsenic, which is a poison and also a cure. That duality can be easily heard in the group's songs. A strong female charismatic image is the calling card of the band and the sound is mainly defined by the various types of female vocals, both singing and screaming, clean and distorted guitars, diverse bass parts and dynamic drum playing with a little flavour of electronics.

The band is known for their energetic live performances, distinctive intriguing image and great
connection with the crowd. They are always looking for a new ways to express and improve their art in
every aspect possible so it is constantly evolving.

New album out in August 20.2019 by Sliptrick Records
"Final collision" is a second LP from a band Arshenic based in Gdańsk, Poland. It was recorded in September 2018 in Osso Studio in Gdansk. The digital version of album contains 11 songs. CD also contains hidden track not available on the internet. Arshenic's style is a trademark mixture of few heavy.
Dear Remorse Video
Main Band Members
Oliwia Bartuś-Staszak "Ofilia" vocal, lyrics, melody
Włodzimierz Czuba "Vlad" electric guitar, composition
Bartosz Staszak drums
Releases:
2008 EP "W plecy nóż" ( EP internet release)
2015 LP "Arshenic" (available in Poland only)
2016 EP "Erased"
2017 (February) single Monster (music video)
2018 (March) – single Unspoken (music video)
2019 (May) – single Dear Remorse (music video)
2019 (August) –album Final Collision
Final Collision