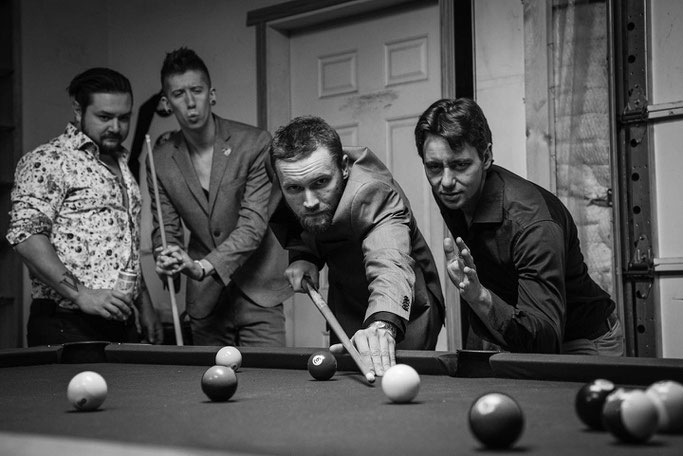 Vogue Villains are backwith a brand new single and video titled "The Arsonist & Gasolina".
Already reviewed here, with their album "Happy.",  Vogue Villains 
show their muscular path with roots well rooted in rock.

BioIn the summer of 2017, the small town Canadian rock band Vogue Villains was formed. Set on making music that felt unique yet was not afraid to wear its influences on its sleeves, (Queens Of The Stone Age, Mother Mother, Billy Talent, Arctic Monkeys, Mini Mansions, Etc.) the band created a sound that is unmistakably and undeniably VV.

Taking an alt-rock stance, the Villains are also planted firmly in catchy melodies and multipart harmonies. Their live sound is big, dirty and full of raw energy, while also having a humorous stage presence that goes hand in hand with their tongue in cheek original music and lyrical sensibilities. After releasing singles leading up to releasing their debut EP "HAPPY." in early 2019 the boys went on a multi-province tour to expand their live show and fan base beyond their local reach. After coming back triumphant it was back to the studio for them to begin recording of their follow up EP that they are currently working excitedly on and will be releasing in early 2020 with more tours to follow. Next year will be full of shows, and the world will be getting a lot more villainous.

Vogue Villains is made up of four members: Andrew Baskin (Lead Vox, Bass), Lucas Antoni (Lead Vox, Guitar), Nate Cox (Drums, Vox) and Robert Johnston (Keyboard, Guitar, Vox).
You can follow Vogue Villains in their socials:
Official Website
Facebook