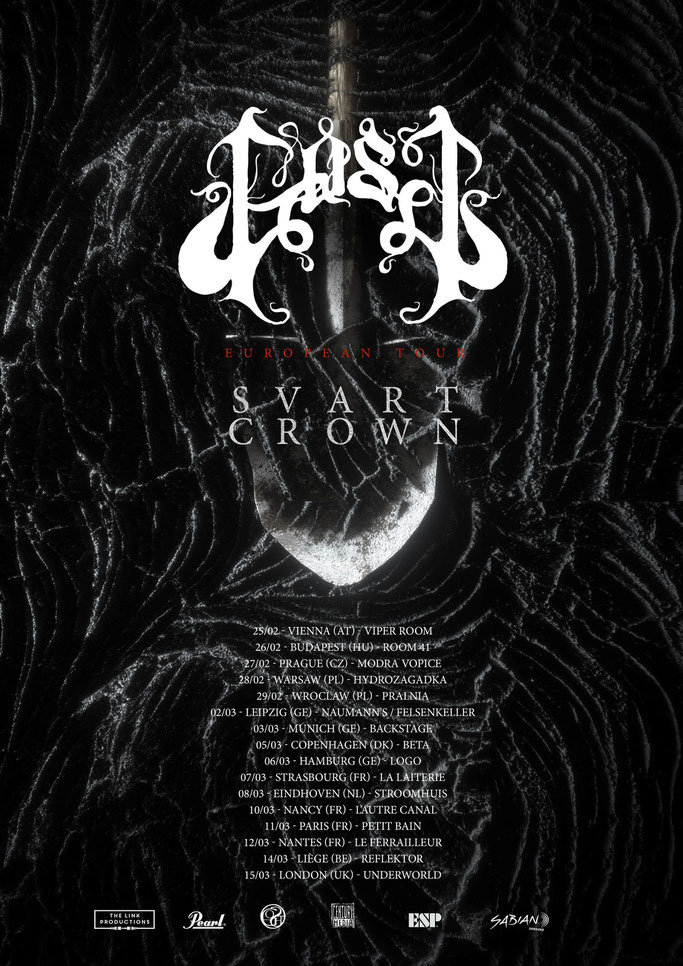 While they are finalizing their current run with Mayhem and Gaahls Wyrd GOST announce their European headlining tour with support coming from the French black/Death metal band and label mates SVART CROWN.
 
GOST comment: "We are extremely excited to share 'Valediction' with a full performance of the album mixed with some older favorites on our upcoming headlining tour!  We will have a new stage show with us that will burn your eyes out of your skull as well!"
 
SVART CROWN cannot wait to present their upcoming studio album live: "We are really happy to announce the first tour for our new album. Since we are always up for jumping on the most diverse and unique packages we strongly believe we found a great one with GOST. Expect nothing, but a really bleak immersive live set with brand new songs and new live set-up."

GOST
SVART CROWN
25.02.20 (AT) Vienna - Viper Room
26.02.20 (HU) Budapest - Room 41
27.02.20 (CZ) Prague - Modra Vopice
28.02.20 (PL) Warsaw - Hydrozagadka
29.02.20 (PL) Wroclaw - Pralnia
02.03.20 (DE) Leipzig - Naumann's / Felsenkeller
03.03.20 (DE) Munich - Backstage
05.03.20 (DK) Copenhagen - Beta
06.03.20 (DE) Hamburg - Logo
07.03.20 (FR) Strasbourg - La Laiterie
08.03.20 (NL) Eindhoven - Stroomhuis
10.03.20 (FR) Nancy - L'Autre Canal
11.03.20 (FR) Paris - Petit Bain
12.03.20 (FR) Nantes - Le Ferrailleur
14.03.20 (BE) Liège - Reflektor
15.03.20 (UK) London - Underworld
 
Before GOST is playing a headlining tour throughout North America:
28.01.20 Denver, CO - Larimer Lounge
29.01.20 Salt Lake City, UT - Metro Music Hall
31.01.20 San Francisco, CA - 1015 Folsom
01.02.20 Los Angeles, CA - The Echo
02.02.20 Phoenix, AZ - Rebel Lounge
04.02.20 Austin, TX - Barracuda
05.02.20 Oklahoma City, OK – 89th Street
07.02.20 Louis, MO - Fubar
08.02.20 West Chicago, IL - WC Social Club
09.02.20 Cleveland, OH - Beachland Ballroom
11.02.20 Providence, RI - Fete Music Hall
12.02.20 Brooklyn, NY - Knitting Factory
13.02.20 Philadelphia, PA - Voltage Lounge
14.02.20 Baltimore, MD - Metro Gallery
15.02.20 Richmond, VA - Gallery 5
16.02.20 Atlanta, GA - The Earl
GOST online:
www.facebook.com/gost1980s
www.instagram.com/gost1980s
www.twitter.com/gost1980s