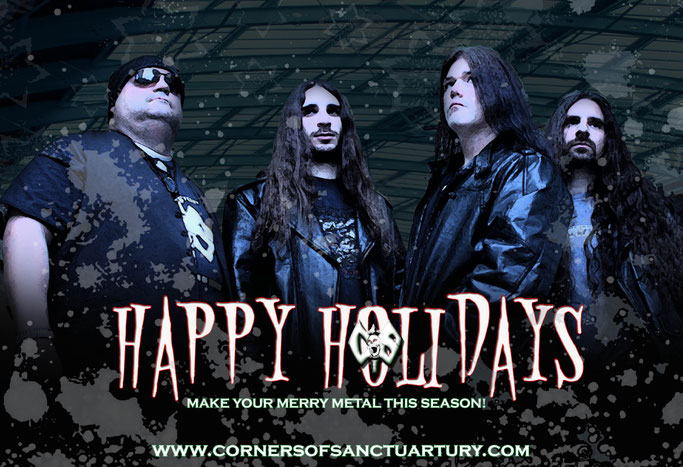 For many, the Holidays are a time for getting together with family and friends. For Corners of Sanctuary (COS), the Holidays mean sharing an all new, original song. In true Holiday spirit, the Heavy Metal hit men have released their latest seasonal single, "Hold on to Christmas." The new track will be available for free download at the band's official website: until January 6th.

"We love the Holidays," said COS guitarist Mick Michaels. "This has become an annual thing for us...it's a labor of loving what we do...and what's more loving than Metal and Christmas?" Michaels added.

"Hold on to Christmas" is also being bundled on a CD with several of the band's previous Holiday songs including "That Feeling We Know," "Driven Snow" and last year's cut, "Counting the Days 'til Christmas." The limited number CD run, "Merry Metal Xmas VI," will be available for free on Black Friday, November 29th, for one day only, through Vinyl Closet Records.

"It's about making this real easy for people to get and to share…and it's free," said COS bassist James Pera. 

"We want to make it a Merry Metal Xmas for everybody," added COS drummer Mad T.

Corners of Sanctuary is also putting the finishing touches on their new EP "What We Leave Behind," which is set to release in December exclusively through Metalheads Forever Magazine for a limited time.

"What We Leave Behind is sort of a collection of tracks that never really got their due," said Michaels. "This was a chance to give them some new life," he added.

The EP was mastered by LA producer Bill Metoyer (Slayer, Armored Saint, Fates Warning) and will also be available on Exquisite Noise Records come 2020.