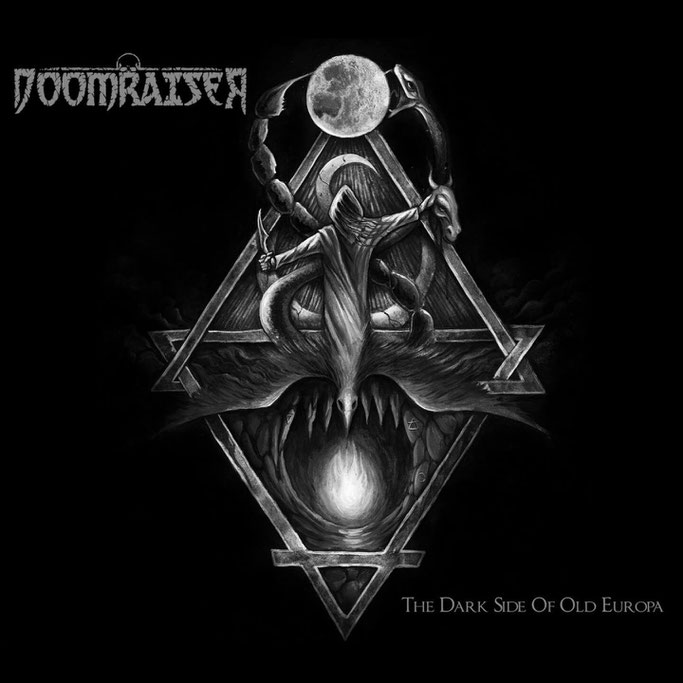 Today, Italian doom metallers DOOMRAISER launch the new single "Häxan" at THIS LOCATION!
The song hails from their highly anticipated new album "The Dark Side of Old Europa", set for international release on January 24th 2020 via Time To Kill Records.

The album was produced by Danilo Silvestri and by the band. Renowned artist Roberto Toderico is responsible for the impressive cover artwork that's now available along with the album's tracklist.

"Exploring Europa's darkest events, we conceived an obscure sound relying on the Doomraiser 'heavy drunken doom' trademarks: heavy metal played at a monolithic pace, where fast and slower, gloomy introspective parts often collide. The final result is very 'live sounding', every instrument breathes with vicious abandon while building a tight wall of sound. This time around the songs' length has also been reduced in order to strengthen their impact and intensity".

"The Dark Side of Old Europa" tracklist:

01. Passage
02. Chimera
03. The Dark Side of Old Europa
04. Tauroctony (The Secret Cult of Mithras)
05. Terminal Dusk
06. Häxan
07. Continuum Pt. 1 (Suspended in Darkness)
08. Loathsome Explorer Interpolation
Pre-order HERE

Formed in 2004, the Rome-based band have evolved into an instantly recognisable figurehead for those pushing doom metal into crushing new directions. Through the years the band have shared the stage with acts such as Electric Wizard, Reverend Bizarre, The Gates of Slumber and Orange Goblin and have been experimenting and contaminating their music with raw heavy metal, psychedelia and other influences.

Watch for new singles, new tour updates, and more news on other upcoming DOOMRAISER activities to be posted shortly.

Line-up:

Nicola Rossi – Vocals/Synth
Marco Montagna – Guitars
Giuseppe Nantini – Guitars
Andrea Caminiti – Bass
Daniele Amatori – Drums

Discography:

HEAVY DRUNKEN DOOM – Demo – CD (Self-Released – 2004)
THE OLD MAN TO THE CHILD – Single – 7" (Obscura Release/Ghost Records – 2006)
LORDS OF MERCY – Full-Length – CD (Iron Tyrant – 2006) + 2LP (BloodRock Records – 2007)
BEHIND THE SAME CROSS – Split w/Midryasi- 7" (Iron Tyrant – 2008)
ANNO DOMINI DDVIII – Promo – CD (Self-Released – 2008)
ERASING THE REMEMBRANCE – Full-Length – CD/2LP ( BloodRock Records – 2009)
GUARDIAN OF THE GREAT EYE – Split w/Erthride – 7" (BloodRock Records – 2010)
MOUNTAINS OF MADNESS – Full-Length – CD/LP (BloodRock Records – 2011)
DREAM KILLERS – Split w/Caronte – CD (Lo-Fi Creatures Rec. – 2013/Van Records – 2014) + 12" (BloodRock Records – 2013)
REVERSE (Passaggio Inverso) – Full-Length – CD/LP (BloodRock Records – 2015)
LORDS OF MERCY (10th Year Anniversary) + HEAVY DRUNKEN DOOM – 2CD (BloodRock Records – 2016)

DOOMRAISER

http://www.facebook.com/doomraiser/
http://www.instagram.com/doomraiserofficial/
http://www.youtube.com/user/doomraiserband

Time To Kill Records

https://www.facebook.com/timetokillrecords/
http://www.timetokill-records.com/