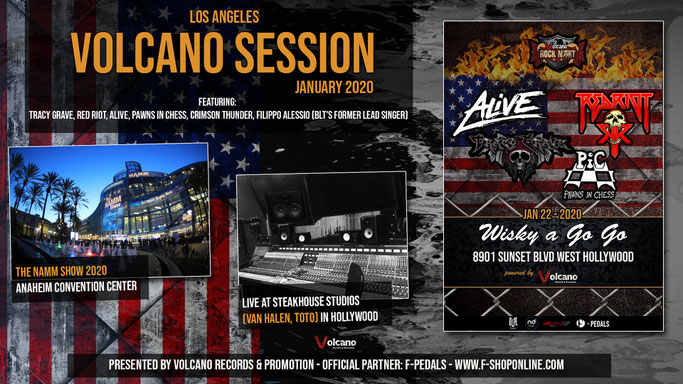 After opening the international sector in 2018 with a major festival in Berlin and recently launched a distribution platform dedicated to the thriving Japanese market, Volcano Records & Promotion confirms its international vocation by organizing an unprecedented event that will take place in California from 16 to 22 January 2020.

"Los Angeles - Volcano Session 2020" is the name given to the initiative that will take six bands of the Italian record label's roster rock to cross the ocean to live a unique experience.
We start on January 16 with the NAMM Show in Anaheim, then move to Los Angeles where 20 and 21 January Tracy Grave, Red Riot, Alive, Pawns In Chess, Crimson Thunder and Filippo Alessio (Breaking Larsen Theory) will hold a live set at Steakhouse Studio in Hollywood, the historic recording studio where they worked from Van Halen to Slash, for the production of a double disc + DVD that will see the light in the spring.

To complete the American expedition, a huge show branded Volcano Rock Night will be staged on the stage of the most famous local Sunset Boulevard, the legendary Whisky A Go Go, where on January 22 will play in concert four of the six Italian bands for a unique experience and the unique opportunity to prove their worth in the temple of world rock.
For more information
www.volcanopromotion.com