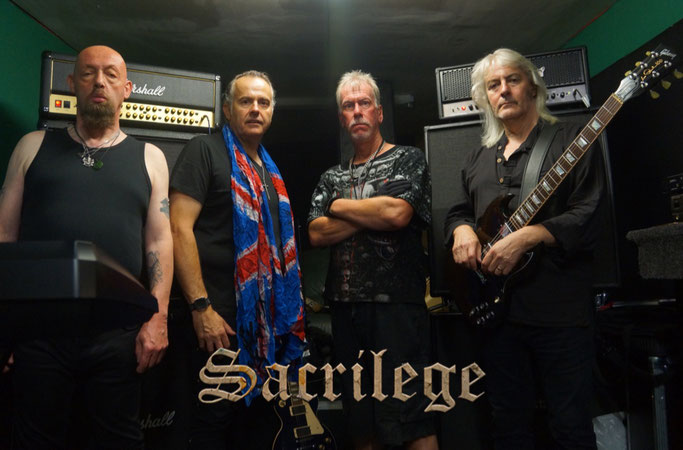 The British heavy rock band SACRILEGE, announces the next works of the new music video, which will see the direction of an Italian director and writer  Marco Paracchini, the band manager Valeria Campagnale, (Rockers And Other Animals and Insane Voices Labyrinth) to the production and, an actually secret, Italian location.
With an Italo-English brainstorming, a completely Italian staff at disposition, SACRILEGE will start shooting in December, inaugurating next year 2020, with the launch of the new video.

Between top secret and revelations, the only thing the band can highlight is the next video will contain a clear and deep social message and, it will be completely different from anything they've done in the past.

SACRILEGE mastermind Bill Beadle comments:
"You've heard the album and you know the band, now coming soon, The Court of the insane video release."

The legendary band consisting of skilled and professional musicians such as Biil Beadle at vocals and guitar, Neil Turnbull (ex Dervish) on drums, Jeff Rolland on bass and Paul Macnamara (ex Salem) on lead guitar, is once again ready to surprise us.
A period of great creativity for SACRILEGE, known as one of the pioneering bands of NWOBHM which, after releasing the seventh studio album "The Court Of The Insane", is currently in full live activity.
The next SACRILEGE concerts for 2019:
18 October SACRILEGE + Kerbeross at Ragnarok Live Club, Bree -BE
19 October SACRILEGE + Cthulhu at  Café The Jack, Eindhoven - NL
8 November SACRILEGE at New Cross Inn Classic Rock Weekender,  Londra - UK    
14 December SACRILEGE at Sacrilege Christmas at The Carlisle Hastings, Uk