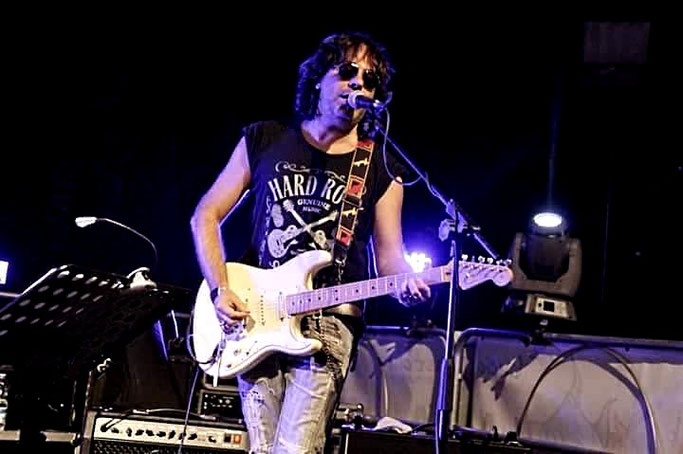 Franco Giaffreda's musical career began in 1989. The band was called Evil Wings and he was the singer, guitarist and composer of the band. From 1989 to 2003 the band recorded several CDs in the prog/rock/metal area. In 2004 Franco Giaffreda wrote a concept under his name called "Angels in the Wind" which can be defined as the antecedent of his last work entitled "The strange days of NOINNESS". After other experiences with Massimo Priviero, Fabio Concato and Nic Potter (Live in Italy) he joined the band Biglietto per L'inferno. Franco leaves the group to join Get'em Out in 2013. His latest work "Gli strani giorni di NOInessUNO" is a synthesis of his previous experiences.
Presentation of "Gli strani giorni di NOInSSUNO":
"The Strange Days of NONONE" tells a phase of Franco Giaffreda's life. It is a concept of what has happened to him in recent years, a period of life rather negative for the artist, a period of life in which he has collided with the sad reality of a world that he finds too rude, frantic, arrogant and dull. However, the word "None" also contains the word "One": this means that "in the people we often judge badly there are talents and beautiful people, so there is always some hope for the future", according to the words of the artist.
Links for streaming on Spotify

"The strange days of NOW"
Release date: April 2019
Genre: rock/progressive/hard rock
Label: self-production

Track list:
1. Run with your thoughts
2. In a whirlpool of events
3. Confused identity
4. Questions
5. Traveling far away
6. Tin souls
7. Thieves of dreams
8. Only
9. Sleep awake
10. Nightmare at night
11. Before waking up
12. No one's ballad
13. Inner Dawn
14. Getting back to being

Line up:

Franco Giaffreda (guitar, voice and flute)
Walter Rivolta (drums)
Alessandro Cassani (bass)

Facebook page