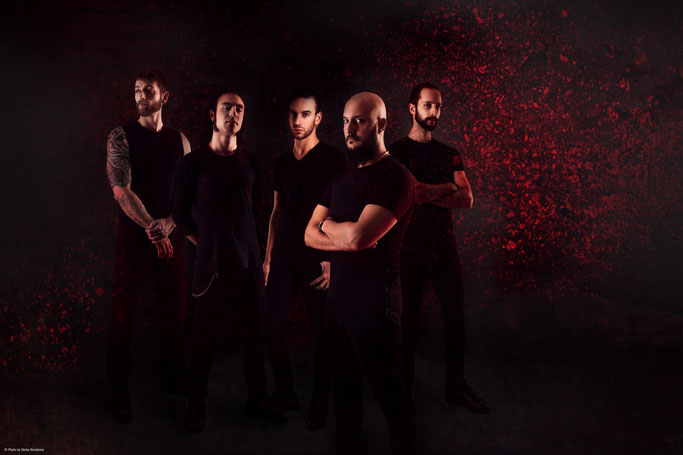 Today Italian Technical Death Metal force HIDEOUS DIVINITY are releasing the single "The Deaden Room" taken from their upcoming fourth album "SIMULACRUM", which will be out on November 8th, 2019. Watch the lyric video to "The Deaden Room".
 
HIDEOUS DIVINITY already released one track "The Embalmer", which came with an outstanding video clip, created by contemporary performance artist OLIVIER DE SAGAZAN.
(Video credits: PRODUCED BY Eclypso Studio, Studio Capta / DIRECTOR AND D.o.P. Dema Novakova / CONCEPT BY Olivier De Sagazan / PRODUCTION MANAGER Daniele Diodati / 1st CAMERA Luca Ciuti / ASSISTAND DIRECTOR and 2nd CAMERA Andrea Casella / SCREENPLAY BY Olivier De Sagazan, Stephanie Sant, Tito Vespasiani, Enrico Schettino / EDITING BY Andrea Casella / VFX BY Mattia Del Giudice / COLORISTS Mattia Del Giudice, Roberto Gigliotti / SCRIPT SUPERVISOR Desirèe Diodati / SET ASSISTANTS Francisco Paredes Martinez, Michele Labarbuta, Saverio Razzano / PERFORMED BY Olivier De Sagazan, Stephanie Sant, Hideous Divinity / BACKSTAGE PHOTOGRAPHER Andrea Muroni / BACKSTAGE VIDEO Roberto Gigliotti / MADE WITH THE PATRONAGE OF Filip Lauwereys/BE METAL)
 
"SIMULACRUM" was recorded, mixed and mastered by Stefano Morabito at 16th Cellar Studio and will be available as Ltd. CD Digipak, black LP+CD and Digital alum.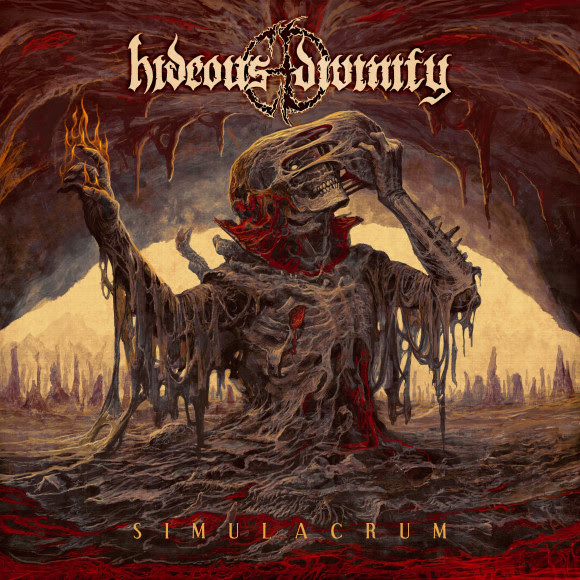 "SIMULACRUM" Tracklisting:
    1.    Deleuzean Centuries (05:02)
    2.    The Embalmer (04:36)
    3.    Condense (00:28)
    4.    Anamorphia Atto III (06:08)
    5.    The Deaden Room (03:33)
    6.    Actaeon (04:33)
    7.    Bent Until Fracture (04:29)
    8.    Seed of Future Horror (04:35)
    9.    Prey to a Vision (03:47)
    10.    Implemini Exitio (03:41)
    11.    Blood of the Zodiac (Cover) (06:08)
    12.    Cursed in Eternity (Cover) (04:08)
Pre-Order has started, all formats are available here
 
Next show:
02.11.19 St. Niklaas (Masters of Grind - BE)
16.11.19 Zwichau (DE)
25.07.20 Steenwijk (Stonehenge Festival - NL)
HIDEOUS DIVINITY are
Enrico "H." Di Lorenzo (vocals)
Enrico Schettino (guitars)
Riccardo Benedini (guitars)
Stefano Franceschini (bass)
Giulio Galati (drums)
 
HIDEOUS DIVINITY online
https://www.facebook.com/hideousdivinity
https://www.instagram.com/hideousdivinity
https://twitter.com/hideousdivinity
EU Merch Store
 
Management and EU/Rest of the World booking:
Tito Vespasiani - tito.dta@gmail.com
 
Booking for North America:
Stephan Mellul @ Continental Concerts USA - steph@continental-concerts.us