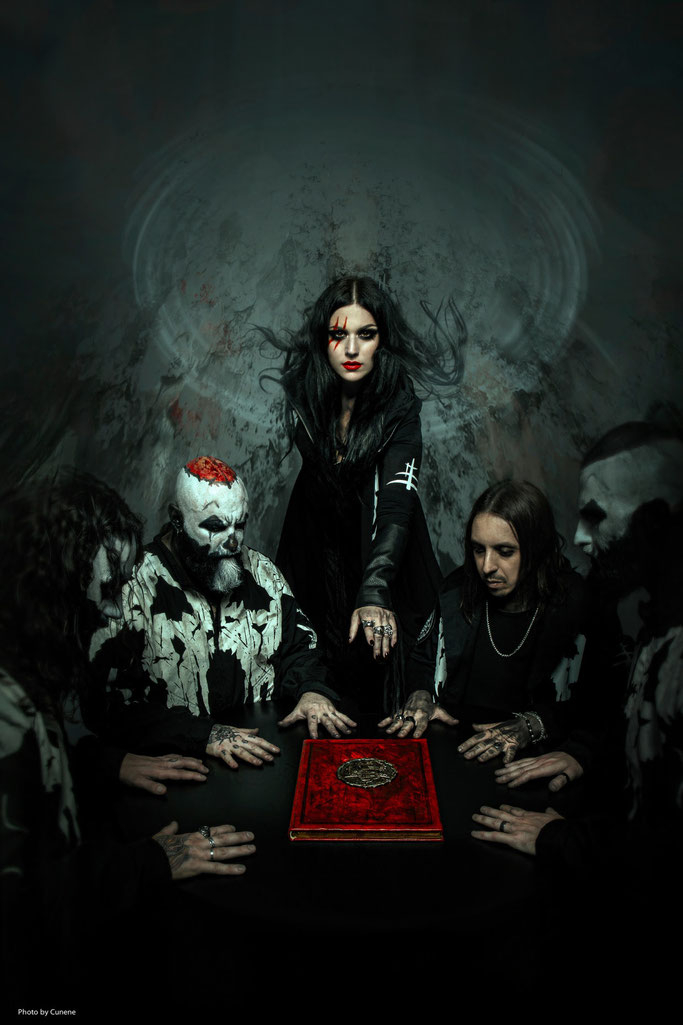 With the release of "Reckless" Italian alt metal superstars LACUNA COIL are presenting the second single of their new album "Black Anima", out on October 11th, 2019. The official music video to "Reckless" continues the story, which began in the video to previously released single "Layers Of Time" and was again filmed by director Roberto Saku Cinardi.
Cristina Scabbia comments: "Reckless" is the second track taken from our new album "Black Anima". We wanted the concept of the video for this song to be somehow related to the one in "Layers Of Time": that's why we filmed both of them in the same location picked by Roberto Saku Cinardi.
We had the band's performance at the core of the "Layers of Time" video, while in "Reckless" the ideas of freedom and being true to yourself come to life through disturbing horror images to cause a reaction in the audience and actually represent the obscure atmosphere of our new record.
In "Reckless", Lacuna Coil became part and parcel of the nightmare and fears experienced by the little redheaded girl. As usual, working with Saku in such a stunning location and with great actors that completely committed to the roles, has been absolutely inspiring. It was definitely worth it and I hope you will like this video as much as I do!
 
Director Roberto Cinardi (aka SaKu) already worked with the band for many videos such as the award winning "Spellbound" (2009), "I Won't Tell You" (2010), "End of Time" (2012) and the short film with members of the band Dark Passengers (2012).
 
THE NIGHT IS NOT JUST THE ABSENCE OF THE SUN, IT HAS ITS OWN ENERGY, THE DARKNESS MOVES IN…
 
THERE'S A TIMELESS REALITY, A NEVER ENDING UNIVERSE WHERE MEMORIES OF THE PAST LIVE INFINITELY
 
HERE RESIDES WHAT SOME PEOPLE MIGHT CALL HOLY ANGEL, FALLEN SPIRIT, DIVINE MESSENGER OR INVISIBILE
FORCE…WE CALL IT:
 
B L A C K   A N I M A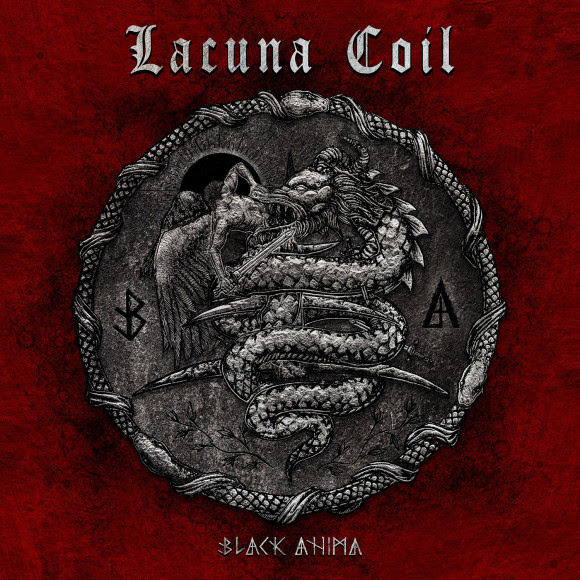 "BLACK ANIMA" Tracklisting
    1.    Anima Nera (02:29)
    2.    Sword Of Anger (03:54)
    3.    Reckless (03:06)
    4.    Layers Of Time (04:07)
    5.    Apocalypse (04:18)
    6.    Now Or Never (04:42)
    7.    Under The Surface (04:13)
    8.    Veneficium (06:10)
    9.    The End Is All I Can See (04:17)
    10.    Save Me (04:36)
    11.    Black Anima (03:23)
"Black Anima" will be available as Ltd. 2CD Book Edition incl. tarot cards, Standard CD Jewelcase, black LP + CD and digital album (+Bonus Tracks). All formats are available for pre-order here.
 
"Black Anima" is the follow up to LACUNA COIL's "Delirium" (2016), which entered the charts in the US (#16 Current Album Chart, #2 Hard Rock Chart) and all over Europe and "THE 119 SHOW - LIVE IN LONDON", which was released in late 2018 to celebrate the band's 20th anniversary.
LACUNA COIL LIVE
LACUNA COIL will be playing an extended co-headlining US tour with All That Remains before touring Europe together with Swiss Folk Metal band Eluveitie and their friends in Infected Rain.
 
ALL THAT REMAINS + LACUNA COIL CO-HEADLINING US TOUR
DISEASE OF THE ANIMA TOUR DATES
w/ Bad Omens, Toothgrinder, and Uncured
Sep 15, 2019 - New York, NY - Webster Hall
Sep 17, 2019 - Greenville SC - The Firmament
Sep 18, 2019 - Knoxville, TN - Jackson Terminal
Sep 19, 2019 - Atlanta, GA - Masquerade
Sep 20, 2019 - Dothan, AL - The Plant
Sep 21, 2019 - Mobile, AL - Soul Kitchen
Sep 23, 2019 - Dallas, TX - Gas Monkey Live
Sep 24, 2019 - Houston, TX - White Oak Music
Sep 27, 2019 - Phoenix, AZ - The Pressroom
Sep 28, 2019 - Las Vegas, NV - Hard Rock Live*
Sep 30, 2019 - San Diego, CA - House of Blues*
Oct 1, 2019 - Los Angeles, CA - The Regent Theater*
Oct 2, 2019 - Berkley, CA - The UC Theatre
Oct 3, 2019 - Sacramento, CA - Ace Of Spades
Oct 5, 2019 - Spokane, WA - The Knitting Factory*
Oct 6, 2019 - Calgary, AB - Palace Theatre
Oct 7, 2019 - Edmonton, AB - Starlite Room
Oct 9, 2019 - Winnipeg, MB - Park Theatre
Oct 10, 2019 - Minot, ND - The 'O' Riginal Bar
 
w/ Bad Omens, Eximious, and Uncured
Oct 11, 2019 - Minneapolis, MN - The Cabooze
Oct 12, 2019 - Columbia, MO - The Blue Note
Oct 13, 2019 - Milwaukee, WI - The Rave II
Oct 15, 2019 - Cincinnati, OH - Riverfront Live
Oct 16, 2019 - Chicago, IL - House Of Blues*
Oct 17, 2019 - Cleveland, OH - House Of Blues
Oct 18, 2019 - Toronto, ON - Opera House
Oct 19, 2019 - Baltimore, MD - Ram's Head Live
*no Bad Omens
 
LACUNA COIL on tour with Eluveitie
Support: Infected Rain
Sat 02 Nov 2019 Italy – Bari, Demodé Club
Sun 03 Nov 2019 Italy – Rome, Orion                   
Tues 05 Nov 2019 Italy – Bologna, Estragon
Weds 06 Nov 2019 Italy – Milan, Live Club         
Fri 08 Nov 2019 Germany – Stuttgart, LKA Longhorn
Sat 09 Nov 2019 Germany – Oberhausen, Turbinenhalle II
Sun 10 Nov 2019 Belgium -  Antwerp, Trix                         
Tues 12 Nov 2019 UK – Manchester, O2 Ritz
Weds 13 Nov 2019 UK – Glasgow, Garage
Thurs 14 Nov 2019 IRELAND – Dublin, Academy
Fri 15 Nov 2019 UK - Bristol, SWX
Sat 16 Nov 2019 UK – London, O2 Forum Kentish Town
Sun 17 Nov 2019 NL – Utrecht, Tivoli Ronda      
Tues 19 Nov 2019 Germany – Frankfurt, Batschkapp
Weds 20 Nov 2019 Germany – Hannover, Capitol
Thurs 21 Nov 2019 Germany – Berlin, Huxleys
Fri 22 Nov 2019 Germany – Leipzig, Felsenkeller
Sat 23 Nov 2019 Germany – Munich, Tonhalle
Sun 24 Nov 2019 Austria – Dornbirn, Conrad Sohm       
Tues 26 Nov 2019 France – Bordeaux, Le Rocher de Palmer
Weds 27 Nov 2019 Spain – Barcelona, Razzmatazz
Thurs 28 Nov 2019 Spain – Madrid, Mon Live
Fri 29 Nov 2019 France - Toulouse, Le Bikini
Sat 30 Nov 2019 France – Rennes, L'Etage
Sun 01 Dec 2019 France – Paris, Elysée-Montmartre    
Tues 03 Dec 2019 Germany – Saarbrucken, Garage
Weds 04 Dec 2019 Germany – Nurnberg, Hirsch
Thurs 05 Dec 2019 Slovenia – Ljubljana, Kino Siska
Sun 08 Dec 2019 Austria – Vienna, Arena           
Tues 10 Dec 2019 Poland – Krakow, Kwadrat Students Club
Weds 11 Dec 2019 Poland – Warsaw, Progresja
Thurs 12 Dec 2019 Latvia – Riga, Melna Piektdiena
Fri 13 Dec 2019 Finland – Helsinki, Tavastia
Sat 14 Dec 2019 Finland – Tampere, Pakkahuone
Sun 15 Dec 2019 Estonia – Tallinn, Rock Cafe                   
Tues 17 Dec 2019 Sweden – Stockholm, Klubben Fryshuset
Weds 18 Dec 2019 Norway – Oslo, Vulkan Arena
Thurs 19 Dec 2019 Sweden – Gothenburg, Tradgarn
Fri 20 Dec 2019 Denmark - Copenhagen, Amager Bio
Sat 21 Dec 2019 Germany – Hamburg,   Docks


LACUNA COIL is
Cristina Scabbia – Vocals
Andrea Ferro – Vocals
Marco "Maki" Coti-Zelati – Guitars, Bass Guitar, Keyboards & Synths
Diego DD Cavallotti – Guitars
Richard Meiz – Drums
 
LACUNA COIL online
www.lacunacoil.it  
www.instagram.com/lacunacoilofficial
www.facebook.com/lacunacoil   
www.twitter.com/lacuna_coil  
www.emptyspiral.net