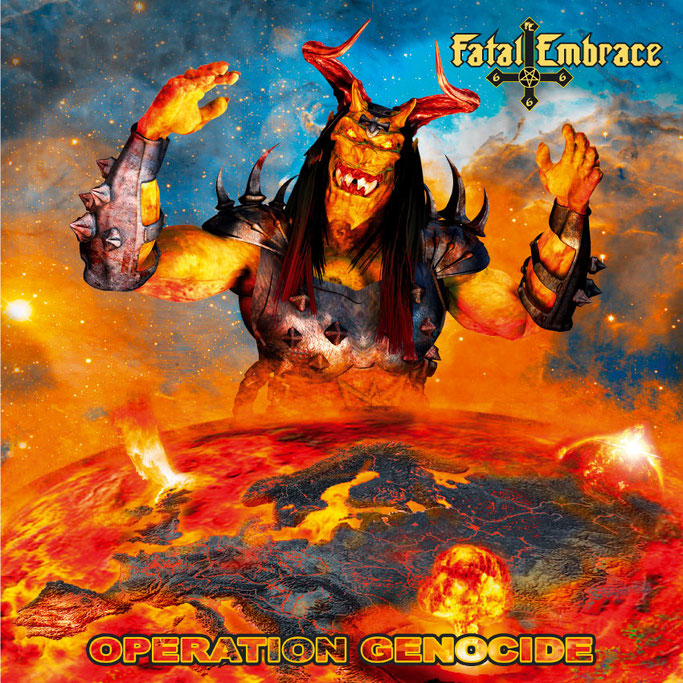 The release date of the of the new album "Operation Genocide" by the German Thrash Metal Band FATAL EMBRACE, via IRON SHIELD RECORDS, on CD is September 27th, 2019.
1993 Formed under the name NOSFERATU. Changing short time later in FATAL EMBRACE.

1994 Release of the 6-track demo DEATH'S EMBRACE, first concerts are following

1995 This is followed by more gigs, for example, with Armoured Angel, Enslaved, Disharmonic Orchestra, Fleshless..and more. Dissolution of the band due to musical and personal differences.

1997 Reforming the band with some new musicians, writing new songs.

1998 – 2014 Release of many singles, splits, albums and tribute-songs. Concerts, festivals and touring with many known bands like Halford, Overkill, Witchburner, Sodom (2 times touring together), Desaster, Holy Moses, Onkel Tom, Vortex, Master, Destruction, Warhammer, Hirax, First Aid, Protector, Ketzer a.m.m.
2015 Release of the Desaster Tribute Sampler. Also 2015 "Slaughter To Survive" came out as CD/ LP, worldwide a lot of great Reviews. Next years, the band was touring and playin' on different Festivals (Taunus Metal).
But now is the new masterpiece ready, it will be out at Friday, 27. September as CD/ LP and, of course, as Streaming/ Download. Also this time: First class Thrash Metal from Berlin! Thrash 'em all!

TRACKLIST:

1. Ripping The Sky

2. Betray Your Heroes

3. Skinned To Be Alive

4. Your Spiritual Quest

5. Let The Evil Flow
6. Depravity

7. Criminal Scum

8. The Soulcrusher

9. Forevermore

10. Spawn Of Plagues

11. Metal Thrashing Mad

Total Playing Time: 44:29 min


LINE-UP:
Dirk Heiland - vocals

Jörg Trabalski - guitars

Tobias Stork - guitars

Philip Zeuschner - drums

Ronald Schulze - bass
Link

www.facebook.com/fatalembraceofficial

www.myspace.com/fatalembracemetalberlin