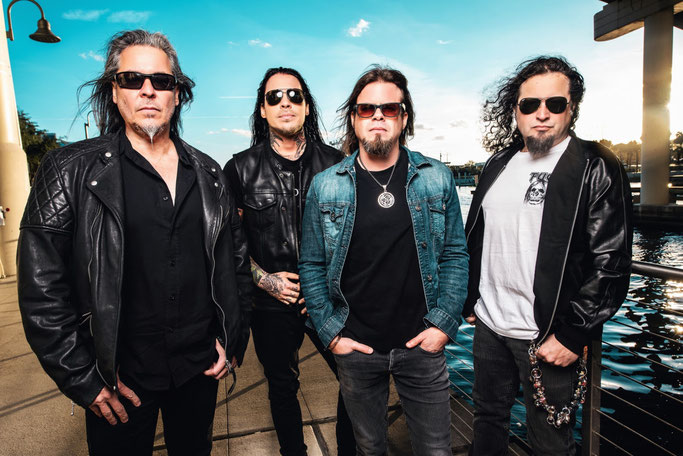 Before finally kicking off their European summer tour tonight in Berlin (GER), rock icons Queensrÿche are presenting a lyric video for the song "Bent", off of their latest record THE VERDICT.
 
Todd La Torre comments: "Bent is a lyrical conglomerate of social injustices and societal struggles infused with progressive musicality. Snippets of thought provoking subject matter take you on a journey of uptempo hard rock/metal riffs with melancholic melodies and atmospheres."

With the release of THE VERDICT Queensrÿche exceeded themselves once again. The album debuted in the top 10 in countries all across the world such as #6 on Germany's Album Chart, #4 on the UK's Rock Chart, #8 on Sweden's Physical Album Charts, #9 on France's Physical Album Chart, #4 on USA's Hard Music Chart, #8 on USA's Rock Chart, #14 on USA's Top Current Chart and #16 on USA's Billboard Top Albums.
 
Furthermore THE VERDICT is critically acclaimed by relevant magazines:
 
#1 Soundcheck – Rock It! (GER)
#1 Soundcheck – Metal.de (GER)
#1 Soundcheck – Aardschok (NL)
#2 Soundcheck – Rock Hard (GER)
#2 Soundcheck – Legacy (GER)
#2 Soundcheck – Sweden Rock (SWE)

"Line-ups change and what magic Queensryche need to deliver a great album is present in spades on 'The Verdict'. It is already a contender for a top five album of 2019." (9/10) - Powerplay (UK)
 
"...the Ryche are asking questions in a voice that once again resonates with authority and commitment." - Prog (UK)
 
"'The Verdict' is a true heavy metal album, in the style of Queensrÿche (...)" (5/6) - La Heavy (ES)
 
"We are very pleased with an album of this level" - Rock Tribune (B)
 
"The Verdict is the most Metal and Progressive album of Queensrÿche! A true flawless, powerful, melodic and sharp album with brilliant Heavy-Prog songs." - METTALIAN (FR)
 
Order "The Verdict" here.
Queensrÿche live
After wrapping up a very successful headlining US tour Queensrÿche are excited to finally play again for their European fans:
 
"Queensryche is finally headed back to Europe! Once again we'll be playing some of the continent's most prestigious festivals along with many club venues as well.  We have been traveling extensively in support of our new album "The Verdict", and we thank each and every one of you to for the amazing support. See you all soon!" - Todd La Torre.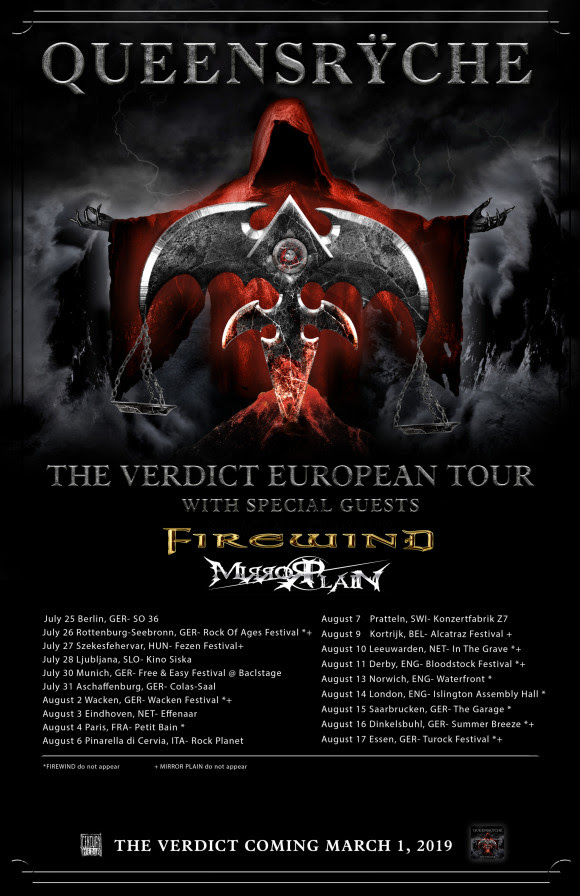 QUEENSRŸCHE "The Verdict European Tour"
w/ Firewind, Mirrorplain
25.07.2019 – SO36, Berlin (DE)
26.07.2019 – Rock of Ages, Rottenburg-Seebronn (DE) *+
27.07.2019 – Fezen Festival, Szekesfehervar (HU) +
28.07.2019 – Kino Siska, Ljubljana (SL)
30.07.2019 – Free & Easy Festival, München (DE)
31.07.2019 – Colos-Saal, Aschaffenburg (DE)
02.08.2019 – Wacken Open-Air, Wacken (DE) *+
03.08.2019 – Effenaar, Eindhoven (NL)
04.08.2019 – Petit Bain, Paris (FR) *
06.08.2019 – Rock Planet, Pinarella di Cervia (IT)
07.08.2019 – Konzertfabrik z7, Pratteln (CH)
09.08.2019 – Alcatraz Festival, Kortrijk (BE) +
10.08.2019 – Into The Grave Festival, Leeuwarden (NL) *+
11.08.2019 – Bloodstock Open Air Festival, Walton-on-Trent (UK) *+
13.08.2019 – Waterfront, Norwich, Norfolk (UK) *
14.08.2019 – Islington Assembly Hall, London (UK) *
15.08.2019 – Garage, Saarbrücken (DE) *
16.08.2019 – Summer Breeze Festival, Dinkelsbühl (DE) *+
17.08.2019 – Turock Festival, Essen (DE) *+
* FIREWIND do not appear                      
+ MIRRORPLAIN do not appear
Queensrÿche will be continuing touring Europe in November: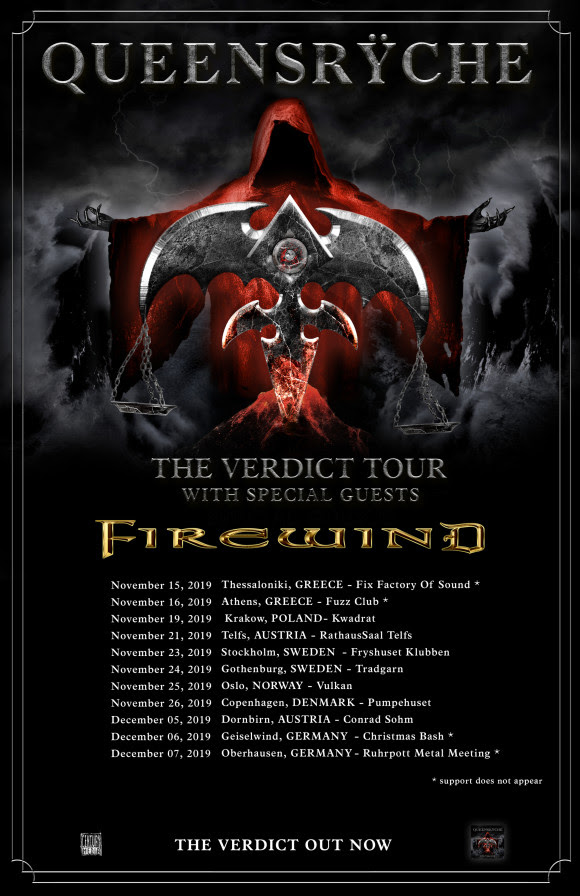 QUEENSRŸCHE "The Verdict European Tour"
w/ Firewind
15.11.2019 – Fix Factory Of Sound, Thessaloniki (GR)*
16.11.2019 – Fuzz Club, Athens (GR)*
19.11.2019 – Kwadrat, Krakow (PL)
21.11.2019 – RathausSaal Telfs, Telfs (A)
23.11.2019 – Fryshuset Klubben, Stockholm (SWE)
24.11.2019 – Tradgarn, Gothenburg (SWE)
25.11.2019 – Vulkan, Oslo (NO)
26.11.2019 – Pumpehuset, Copenhagen (DK)
04.12.2019 – MS Connexion Complex, Mannheim (DE)
05.12.2019 – Conrad Sohm, Dornbirn (A)
06.12.2019 – Christmas Bash, Geiselwind (DE)*
07.12.2019 – Ruhrpott Metal Meeting, Oberhausen (DE)*
* FIREWIND do not appear