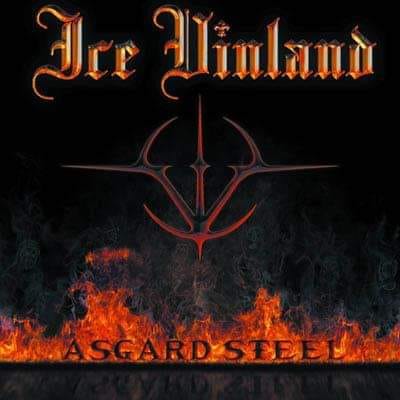 The release date of the album "Asgard Steel" by the Canadian Epic Power Metal Band ICE VINLAND as limited Doublevinyledition is August 30th, 2019. The pre-order phase will start on August 116h, 2019 in Pure Steel Rocords  webshop.
The Album will release in a limited Edition of 300 black copies and insert on Vinyl.

The Canadians ICE VINLAND already belong to the history of our company since 2011, when we released the debut album "Masters Of The Sea", originally published in 1998, for the first time on a strictly limited LP.
The third album "Asgard Steel" (another longplayer called "Vinland Saga" was released in 2007) always stays in the water of old splendor. Already released as CD on their own last year, we now take care again of the LP release.
"Asgard Steel" offers classic, strong epic metal of the finest kind, often with the spirit of old "Conan" films and the thematic break-up with Nordic mythology. Exuberant songs, in the spirit of the good old Manilla Road, Battleroar and yet decorated with their own touch, will make the hearts beat faster for Epic Metal fanatics. Pure goose bumps!

TRACKLIST:

Side A

1. Reign Of Gods

2. Asgards Hymn

3. All Together
Side
B

4. Devilish Road

5. Patriot's Song

Side C

1. The Greek Present

2. Age Of Steel
Side
D

3. Valhalla Gates

4. One Day We Shall Be Free

Total Playing Time: 56:16 min


LINE-UP:

Damian Leif (Leif Thörson) – vocals

Richie Blacksmith – lead guitars, backing vocals

Loïss Darkstorm – lead guitars, backing vocals

Yvin Baldrick – bass

Wolf Fenrir – keyboards

Sven Raudi – drums

Coverartwork:
 Richard Tanguay
Link
www.reverbnation.com/icevinland

https://icevinland.bandcamp.com/

www.facebook.com/groups/icevinland/?source_id=39516459635