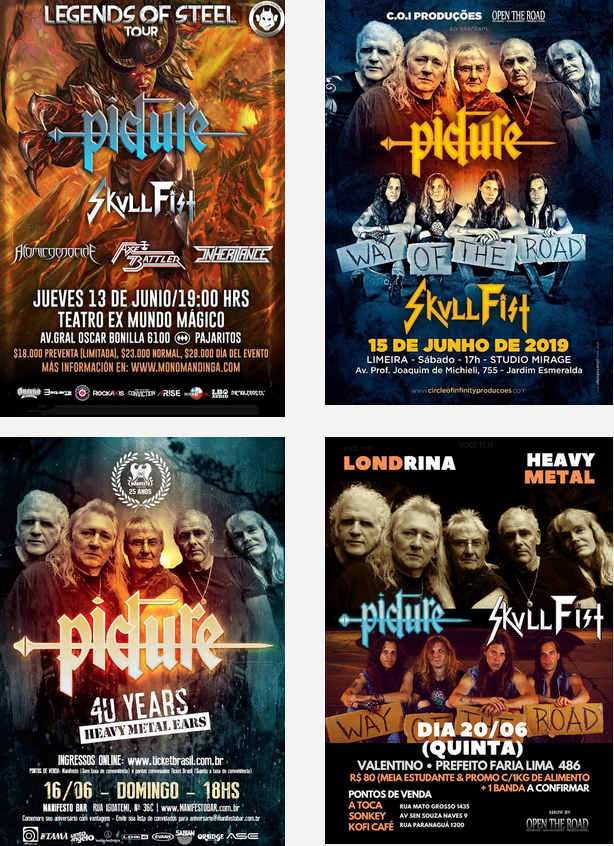 Legendary Dutch band and Pure Steel Records Artists PICTURE are set to bring their brand of Heavy Metal to the fans of South America this Summer! The tour comes to us courtesy of Open the Road Agency and Picture Brasil, a fan club created for the band.
Fans, we encourage you to get your tickets for these Historic performances! We here are Pure Steel Records are proud and excited for PICTURE!

Dates:
13th June 2019
Teatro Ex Mundo Mágico, Santiago (Chile)
start: 7pm
Tickets
with: Atomic Genocide, Inheritance, Axe Battler, Skullfist

15th June 2019
Studio Mirage, Limeira (Brazil)
start: 5pm
with: Skullfist

16th June 2019
Manifesto Bar, São Paulo (Brazil)
start: 6pm
Tickets
Filming for Future DVD Release!
with: Skullfist

20th June 2019
Valentino Bar, Londrina (Brazil)
start: 8pm
Tickets
with: Skullfist

We now present to you a background of The Amazing "PICTURE BRAZIL" Fan Club:

The Picture Brazilian Fan Club was created online, in 2013, by Patricia Vera in a Facebook fan page called " Picture Brazil" .
The idea of the fan club was to unite all PICTURE fans in Brazil, so Vera worked hard in search for other fans in Heavy Metal facebook pages and groups who are also fans of the band and invite them to join the page. This grass roots style worked out so well that Vera and the band were surprised to see that PICTURE have so many fans in Brazil.

The Face Book page has photos from all eras of the bands history along with photos, videos, and news about the band. Tour information and fans sharing their love for Picture with photos of their collections and all things related to PICTURE.

On March 12, 2016 in Limeria, Brazil, Open The Road Agency partnered with Picture Brazil for an event called " Picture Day".
The Event presented a photo exhibition of the band chronicling their career from their early days. Items were on display such as some rare items which included a notebook with some photos, newspaper clippings and lyrics from "Eternal Dark", which is an  album from the 1980's.
There were  drinking mugs honoring PICTURE DAYS and PICTURE t-shirts that were given away to fans by way of contests  during the bands Concert Performance.