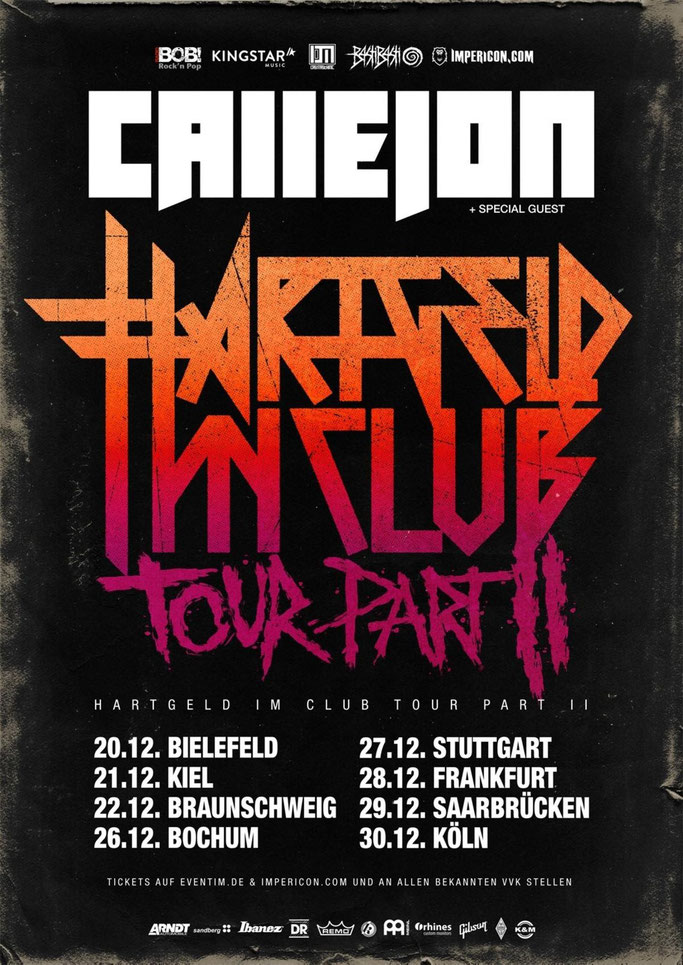 Today Callejon drop the brand new video to the title track of their latest album "Hartgeld Im Club". The track features female rap artists Pilz & Antifuchs and the video shows footage of the first leg of their tour from earlier this year.
The album "Hartgeld Im Club" was released on January 4th 2019 and entered the official German album charts on #5!
To get your very own copy click HERE!
If you missed Callejon on the first part of their tour, make sure to catch them on one of the following live dates:
 
Festivals & Special Shows
11.05.2019 - Hamburg - Hafengeburtstag
22.06.2019 - Siegen - BlueStock Festival
05.07.2019 - Reutlingen - Kurt Festival
06.07.2019 - Freiburg - Jazz House: "Club Tropicana" Special Show
12.07.2019 - Augsburg - Sommer am Kiez Festival
13.07.2019 - Schweinfurt - Stattbahnhof: "Club Tropicana" Special Show

"Hartgeld im Club Tour Part 2"
20.12.2019 - Bielefeld - Forum
21.12.2019 - Kiel - Max Nachttheater
22.12.2019 - Braunschweig - Westand
26.12.2019 - Bochum - Zeche
27.12.2019 - Stuttgart - Im Wizemann
28.12.2019 - Frankfurt - Batschkapp
29.12.2019 - Saarbrücken - Garage
30.12.2019 - Köln - Gloria Theater

Callejon are:
Bastibasti - Vocals
Bernhard Horn - Guitars
Christoph "Kotsche" Koterzina - Guitars
Thorsten Becker - Bass
Max "Kotze" Kotzmann - Drums
Callejon online:
Website
Facebook
Instagram

Callejon - "Hartgeld im Club" feat. Antifuchs & Pilz Official Video