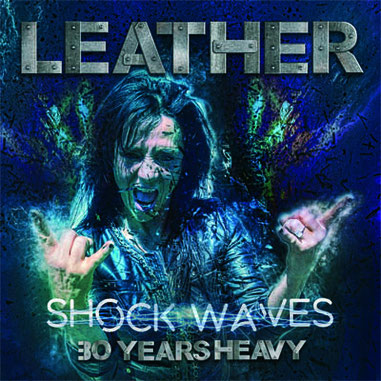 The release date of the of the album "Shock Waves: 30 Years Heavy" by the US-Metal Band Leather as limited Vinyledition is June 28th, 2019.
The pre-order phase will start on June 14th, 2019 in  PURE STEEL webshop.
The Album will release in a limited Edition of 300 black copies, wuth 2 Bonustracks and insert on Vinyl.

In 1989, one of the first ladies of heavy metal was in the limelight. Leather Leone released their first solo album as Leather. Her singing career began in the early 1980s. With Sandy Sledge she founded the all-female band Rude Girl, which broke up despite having a lucrative record deal. However, Shrapnel Records owner Mike Varney absolutely wanted to find a band for Leather and brought her together with shredding maestro David T. Chastain. As Chastain they released five albums in six years, but in 1989 Leather wanted to record a solo album and she did. A superb male trio assisted her: bassist David Harbor (including Chastain King Diamond, Manta Ray), guitarist Michael Harris (Darkology, Thought Chamber, Arch Rival, Zanister) and drummer John Luke Hebert (Manta Ray, Chastain, King Diamond).
The result: "Shock Waves", which is one of the most undervalued pieces of Power Metal - with heavy and wonderful tracks like "Something in this Life" and "It's Still In Your Eyes".
After 30 years, themasterpiece is finally available again on vinyl.

Tracklist:
Side A
1. All Your Neon
2. The Battlefield Of Life
3. Shock Waves
4. In A Dream
5. Something In This Life
Side B
6. Diamonds Are For Real
7. It's Still In Your Eyes
8. Catastrophic Heaven
9. No Place Called Home
10. Diamonds Are For Real (Demo, Bonustrack)
11. Catastrophic Heaven (Live, Bonustrack)
Total Playing Time: 46:52 min

Line-up:
Leather Leone - vocals
Michael Harris - guitars
David Harbour - bass
John Luke Hebert - drums

Special guest:
David T Chastain (2 Bonustracks) - guitars
Coverartwork:
Augusto Peixoto