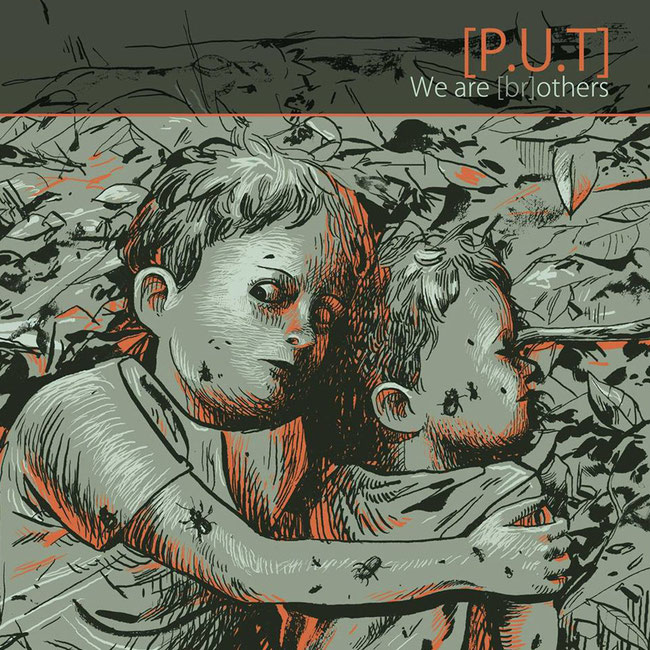 First album to feature the 3 brothers, this common work of 2 years has been self-recorded between Paris area & Brussels, mixed by Loïc at garlic.lab and mastered by Alex Vitrac (ex member) at studio CBE, Paris.
Pre-Order Now available on CD Digipack and Digital on Cursed Monk Records:
https://cursedmonk.bandcamp.com/album/we-are-brothers 
https://www.facebook.com/cursedmonk/

https://putmusic.bandcamp.com/
https://www.facebook.com/profile.php?id=1223033833#!/pages/PUT/78005182411 
Digital EP with remixes is also coming soon

[P.U.T], 3 brothers, living in Paris / Brussels, who making since 1998, a mix of machines vs guitares, blending noise, sludge-metal, industrial and punk to create a music that borrows to madness, emotion, heaviness and anger.
Personal and without concessions, their 6 albums, 8 maxis, 1 split CD, 4 live, a 7inch, a compilation of rareties, and more than 50 contributions to worldwide compilations, does not disavow the influences of Godflesh, Killing joke, Sonic Youth, Scorn or Unsane (and many more!). The band always intrigues at the most point.
On stage, the band reveals his power, making as much noise as a 4-5 pieces musicians…. intense, raw, dirty, disturbing... a destructive machine in movement

More than 180 shows in France, Belgium, Netherlands, Italy, Austria, Swiss, Czech rep. and Germany.

They have played with: SCORN (uk), Hint, Treponem Pal, Hint, Zeni Geva (jp), Ufomammut (it), Akimbo (USA), Burning Heads, Year of No light, Altar of plague (gb), Ultraphallus (be), Anorak, Pneumatic Head Compressor (Be), Membrane, K-Branding (Be), Heirs (au), Io Monade (It), Kapitain Korsakov (be), Lab°, Last Minute to Jaffna (it), Tons (it), Grant National (De), Grrzzz, Lucky Funeral (gr), Black Bomb A, Muckrackers, René Binamé, PPZ30, BAK XIII , Punish Yourself, Izah (nl), Sungrazer (Nl), LTNo, Comity, Zenzile, Tamtrum,Dee N Dee, Ezekiel, Edwood Jr, General Lee and many others!
Lineup:
Beyet Loïc: Guitar, voice, programming 
Beyet Lionel: Bass, voice, programming 
Beyet Nicolas: Guitar, voice.