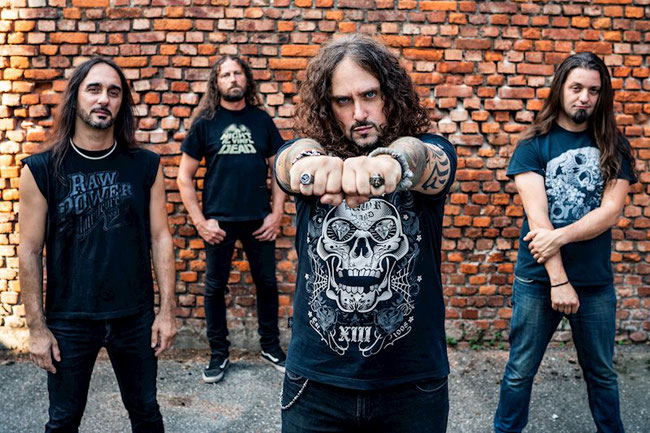 Long-running Italian groove thrash metallers EXTREMA are going to release their seventh studio album, "Headbanging Forever", on May 10, 2019 via Rockshots Records/Universal Music!

EXTREMA's mastermind Tommy Massara comments: "It's a 100% Metal Album that leaves the listeners breathless. The songs are well balanced, there's a lot of double bass, tempo changes and screaming lead guitar solos like in the old days. The songwriting of the album reminds of something classic with a modern production."

Today, the band reveals the first single "For The Loved And The Lost".
EXTREMA frontman Tiziano Spigno states: "I'm really excited for "For the Loved and the Lost" being the first single taken from the new album, as it's one of my favorite tracks
It is a tribute to the friends and the great artists who left us in thelast years. The lyrics is full of quotes and I believe that fans willhave fun trying to sort them out. The chorus take inspiration fromthe viking's prayer to odin before the battle and I really hope thiswill become a great aggregation moment during the next shows, withall the fans raising their glasses of beer, paying tribute to all theseterrific artists and their immortal art."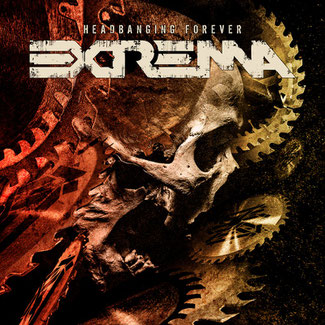 "Headbanging Forever" tracklist:
01. The Call
02. Borders Of Fire
03. For The Loved And The Lost
04. Heavens Blind
05. Pitch Black Eyes
06. Headbanging Forever
07. Believer
08. Invisible
09. Paralyzed
10. The Showdown


The album will be available in CD Digipack Deluxe or Vinyl Gatefold Limited Coloured Edition.  Pre-order it now.
For this album, the band enlisted Gustavo Sazes (MACHINE HEAD, ARCH ENEMY, ANGRA, ICED EARTH, GUS G., AMARANTHE, a.o.) to create the album artwork.

Tommy commented on the cover, "We had a list of artists in mind with which we would like to work with, in the end we decided for two. With one it didn't work, with Gustavo, after some emails and some ideas exchange, we decided to leave him blank paper to let his own vision and concept free,  and the result is awesome! A cover with a strong impact."

"Headbanging Forever" has been produced by Tommy Massara & Gabriele Ravaglia. Recorded and mixed by Gabriele Ravaglia & Maxx Canali at the Fear Studio in Italy, it has been mastered by Alberto Cutolo at Massive Arts studios in Milan.


EXTREMA online:
Official Website
Facebook
Twitter
Instagram
YouTube
Extrema - "For the loved and the lost" - Official Audio