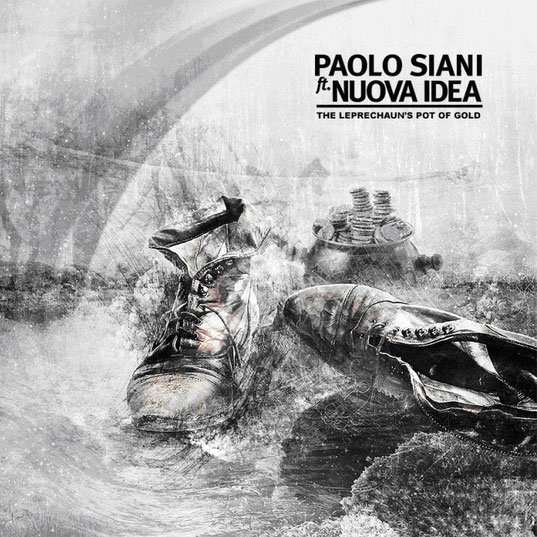 After the album 'Castles, wings, stories and dreams' of the 2014 DVD 'Live Anthology' of 2014 and the album 'Faces with no traces' of 2016 accompanied by the single 'Black angel's claws' realized with the collaboration of Alessandro Siani and former Prodigy Leeroy Thornhill, Paolo Siani returns with the third album of his Trilogy ''The Leprechaun's pot of gold'' due out next January 25th 2019 for Black Widow Records.
Siani offers us another chapter of his music through the presentation of seven original songs he composed, played and arranged and a Bootleg of a live recording performed in 1971 in the RAI Studies of Viale Mazzini during a live broadcast on National Radio within the program 'For you young' conducted by Mario Luzzato Fegiz and Paolo Giaccio.
Definitely Progressive atmospheres between the blues and the soft psychedelic floydiano mold, committed texts that, in the style of Siani, propose existential themes without any particular political orientation but no less important and incisive.
Of all respect the cast that has contributed to the realization of the songs: Giorgio Usai, historical member of the New Idea to the Hammond organ, Roberto Tiranti on bass and the solo voice in several songs, Paul Gordon Manners, solo voice in Standing alone, Anthony Brosco in another performance as a solo voice of the same song produced by his son Alessandro Siani in Brighton (UK), Martin Grice on sax and flute, Guido Guglielminetti on bass, Nik Carraro on electric guitar, Ivana '' Ivy '' Gotti at Theremin , Marco Biggi at the drums in Time to play, in which the Banda G. Puccini of Adro plays, directed by M ° Costanzo Manza, Giangiusto Mattiucci on the Rhodes piano.

The titles of the songs:
Standing alone (6'06 '') feat. Anthony Brosco
Inflate your veins (6'07 '')
The Leprechaun's pot of gold (5'18 '')
Statue of wax (5'31 '')
Lord Brummel (7'04 '')
Walking on the limit (5'30 '')
Time to play (5'26 '')
Standing alone (6'06 '') feat. Paul Gordon Manners
We're going wrong (9'02 '')