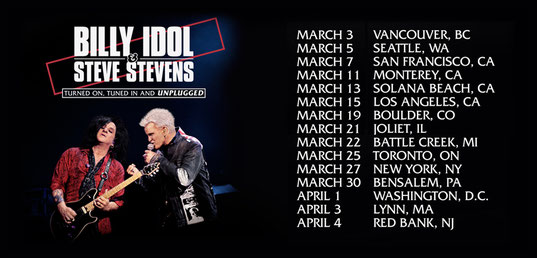 Billy Idol and Steve Stevens, the  most iconic punk rock duo, willbe on tour on March 2019 for their first ever tour performing "Turned On, Tuned In And Unplugged".
Fans across North America will have the opportunity to enjoy their hits, in a new and intimate setting.
Billy Idol and Steve Stevens' undeniable chemistry and seemingly limitless energy, founded on a mutual love of punk, rockabilly and dance music, has produced decades of successful tours and iconic hits including "Rebel Yell", "White Wedding", "Dancing With Myself", "Eyes Without A Face", "Flesh For Fantasy", "Cradle Of Love" and more.
Billy Idol & Steve Stevens "To Be A Lover" – Live at Third Man Records