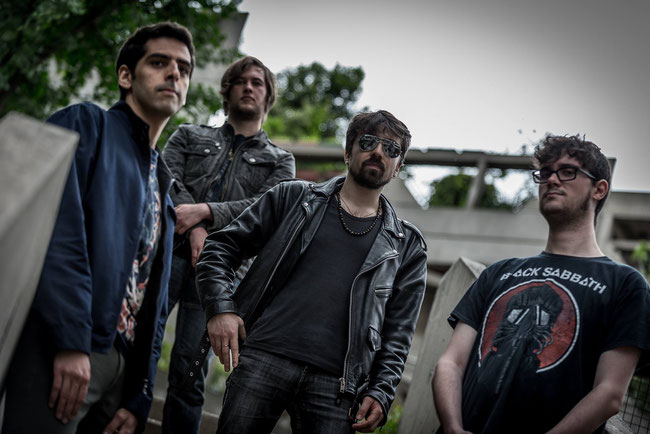 "Giant dinosaurs destroying Earth, heavy metal robots fighting alien UFOs, space fleets of titanic star cruisers travelling through Hyperspace to conquer the Galaxy"
 
About 7 months after releasing a maxi-single called 'ROARS IN THE DEAD OF NIGHT' for digital exclusive on Bandcamp (which one followed their acclaimed debut EP 'Dark Construktor' (2016)), French cryogenic heavy-rockers Wreck Plus just shared a brand new music video for the song "Leaders Of The Great Magnitude", extracted from the 'Dark Construktor EP' and available right now on YouTube.

In other news, 'Roars In The Dead Of Night' - with its own (almost) true story - is still up for digital exclusive on Bandcamp with the both songs available for free streaming at the same location. These tracks are announcing the debut full-length effort by the retro-futuristic heavy band, coming out on 2019..
Wreck Plus is a vintage Heavy rock/metal quartet distilling stoner sounds since 2009.
 
The formula is simple yet efficient: heavy guitar attack supported by monolithic basslines and ecstatic drum work, topped by long melodic vocals lines. With this new EP, 'Dark Construktor', the band takes you back again to the seventies with a modern touch of stoner.
 
The EP runs for 24 minutes, through four powerful riff-based songs, plus an experimental synthesiser interlude. Each track brings a strong identity and memorable atmosphere, drawing in a bigger picture a tribute to Judas Priest, Sabbath and BÖC.

For fans of Black Sabbath, Motörhead, Primus, Sir Lord Baltimore..

Wreck Plus - "Leaders of Great Magnitude" Official Video