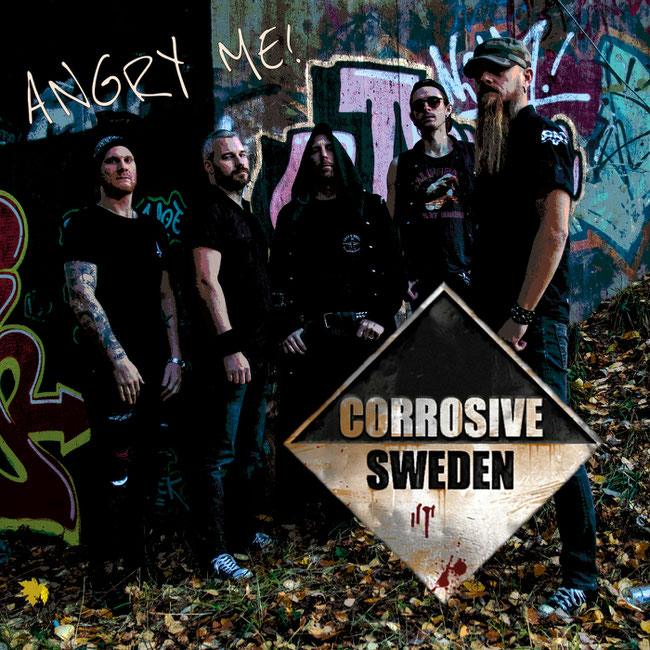 Corrosive Sweden will release the new single "Angry Me" on the 7th of December, taken from the upcoming  fifth album planned to March 2019, which will be released via BMP Records.

"The lyrics for this album are brought up mostly from a very dark period in my life", says Johan Bengtsson.
This gives the album a sense of pain together with punch in the music.

Corrosive Sweden added:
"The album has really been worked through and is a pure reflection of our personal lives. It is probably the best material we have done so far".

Don't miss their Angry Me release party at Pub Anchor, Stockholm on December 6th and 7th.
While you are waiting for the new album, you can listen to their latest release, Scars Part 2, at  Corrosive Sweden official website and watch the video "Big Mouth".

Corrosive Sweden was formed in 1997 and have since then released a number of recordings and have mainly played at  clubs and festivals in Sweden. The band have had the opportunity to open for bands such as The Hellacopters, Amaranthe, Engel, Dead By April, Corroded, Freedom Call, The Kristet Utseende, Smash Into Pieces, Art Nation, Eyes Wide Open.  
Corrosive Sweden was also invited as special guests for the Swedish rock band Backyard Babies.
 
Since July 2018 Corrosive Sweden is a proud member in the team of BMP Records.
 
Corrosive Sweden lineup:
Johan Bengtsson - Vocals
Christer Ulander - Guitar, Keyboard, backing vocals
Peter Forss - Guitar, backing vocals
Daniel Hedin - Drums
Magnus Nordin - Bass

 Corrosive Sweden Website
Corrosive Sweden Facebook
Corrosive Sweden - "Big Mouth" Official Video