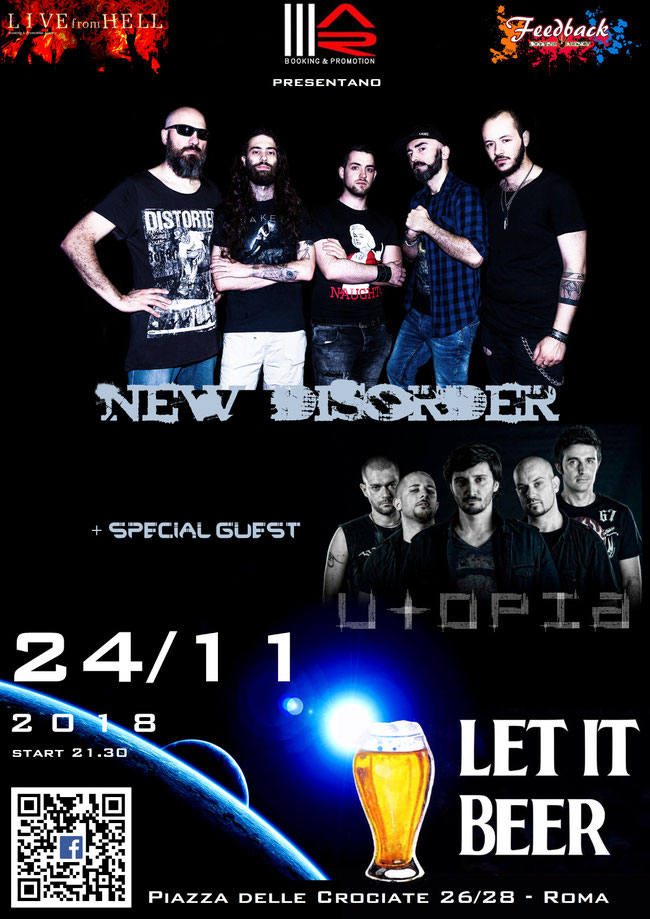 After a long series of dates around Europe in the last 2 years and about to finish the production of the new album, the New Disorder return to perform in the capital, the only Italian date announced before the release of the new studio work, scheduled for next spring.
The live will take place on Saturday November 24th 2018 at  Let It Beer and, for the occasion, the band will insert some previews of the upcoming album in the lineup.
In addition, event in the event will be the highly anticipated return on the stage of Utopia, appreciated progressive / metal-fusion Roman band returns to the limelight after more than 2 years absence on this occasion, as special guest of the evening, a reason in more to not miss the appointment.
Facebook Event

New Disorder
www.newdisorder.it
www.facebook.com/newdisorderband

Line up:
Francesco Lattes (voice) – Ivano Adamo (bass) – Luca Mancini (drums) – Lorenzo Farotti (guitar) – Giovanni Graziano (guitar)

Utopia
www.facebook.com/utopiaband

Line up:
Riccardo Fenaroli (voice) – Lorenzo Antonelli (keyboards) – Lorenzo Venza (guitar) – Enrico Sandri (bass) – David Cannata (drums)

Let It Beer
Indirizzo: Piazza delle Crociate 26/28 Roma (Fermata Metro B Tiburtina)