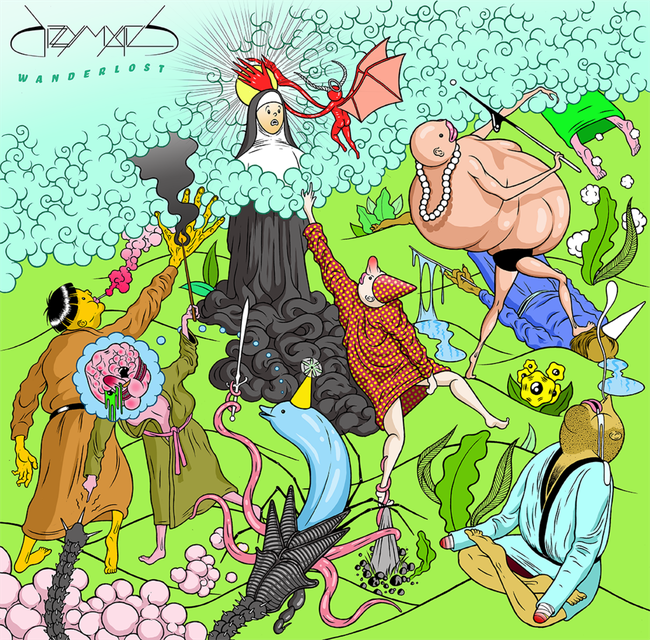 Dizzy Mystics, a psychedelic progressive rock band from Winnipeg, Canada, are serving up their third single "Diamond Duller". It is the most hard hitting and jarring of the songs off the band's debut album "The Wanderlost" set to be released at a later date. Still retaining their colourful medley, this new single expands further into their depths of psychedelic melody, pocket grooves, crushing intensity, mind bending passages, and catchy vocals.

"Diamond Duller" is a heavy track with a theme around the classic case of the grass being greener and taking things for granted. With a metal base, there are pronounced elements of melodic hard rock and funk.  Full of cryptic imagery and metaphors, super jazzy bass lines and progressive guitar riffs this track is sure to be a favurite for fans of Mastodon, Led Zeppelin and The Mars Volta.

The full length album "The Wanderlost" could be loosely based on the concept of being lost in oneself; sonically traversing through a plethora of genres and elements including hard and progressive rock, metal and folk, jazz fusion and grunge. The album was self recorded; mixed by John Paul Peters (Private Ear Recording, Winnipeg); mastered by Ed Brooks (Resonant Mastering, Seattle) and the album artwork was crafted by Ben Duncan. 
"Wanderlost" Track Listing:

1. Letter (4:42)

2. Shindigjig (4:43)

3. Fallasophy (5:02)

4. The Frequent See, Consistent Seas (2:50)

5. The Anti-Dream (5:09)

6. The Scythe Pendulum Swing (7:33)

7. Diamond Duller (4:56)

8. Jaunter (5:26)

9. Rester (Analog Chameleon) (5:01)

10. Wanderlost (11:09)

Links:
https://dizzymystics.com
https://facebook.com/dizzymystics
https://instagram.com/dizzymystics
Dizzy Mystics  - "Diamond Duller"