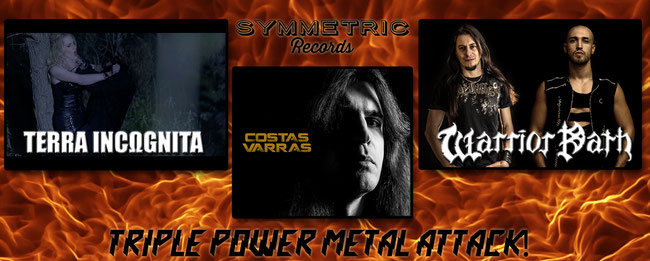 After the recent releases of the new label Symmetric Records of producer and musician Bob Katsionis, which moved into two entirely different musical genres, the atmospheric prog-metal 'The Observatory' by Mask Of Prospero and the Greek-speaking Alternative-Rock debut from " Fones ap to limani " (Voices from the port), it's time to return to the kind he knows best and has excelled through the Firewind, the melodic Power Metal!
 
NEW VIDEO CLIP FOR TERRA INCΩGNITA and "The Midnight Lies", the song with most streams on the band's page on Bandcamp.
The song, which is part of the concept that unfolds in the band's album, tells the story of Strand Von Zarovich who killed his brother in front of his wife's eyes and ... continuity on the screen.
The video was edited and directed by Bob Katsionis, the location is somewhere in the forests of Attica, Greece
Terra IncΩgnita will also be featured at Romania's Satu Mare Rock Camp Festival on 29.06 next to Firewind, Jinjer and Majesty!
Terra IncΩgnita - "The Midnight Lies" official Video
ANNOUNCENMENT OF THE NEW 2nd ALBUM OF VIRTOUOSO COSTAS VARRAS with the participation of famous singers!
Costas Varras is a guitarist / songwriter who exists since 2004 on the Greek Music industry. In 2006 he moved to Los Angeles to take experience where he worked with remarkable musicians and producers such as Chris Tsangarides, has released an album and this year he completed the recordings of the second album titled "Neon-Classical".
The album contains 13 compositions, of which 7 are instrumental, and in the rest 6 of the major Heavy Metal voices such as Henning Basse (Firewind, Mayan, ex-Metallium etc), Chity Somapala (ex-Firewind, Power Quest, Avalon ), Kevin Goocher (Omen), Billy Vass (Terra IncΩgnita), Joseph Michael (Witherfall), Vaine Bodner (For My Addiction)
Details of the album will be announced shortly.
 
WARRIOR PATH will be called the epic / power project led by Andreas Sinanoglou and will include Yannis Papadopoulos (Vocals-Beast In Black, ex-Wardrum) and Bob Katsionis! (Keyboards / Lead Guitars).
Details of this album will be announced soon as well as the revelation of the amazing handmade artwork by Dimitar Nikolov (Ross The Boss, Wisdoom, Crosswind and more)
 
https://www.facebook.com/ symmetricrecords/