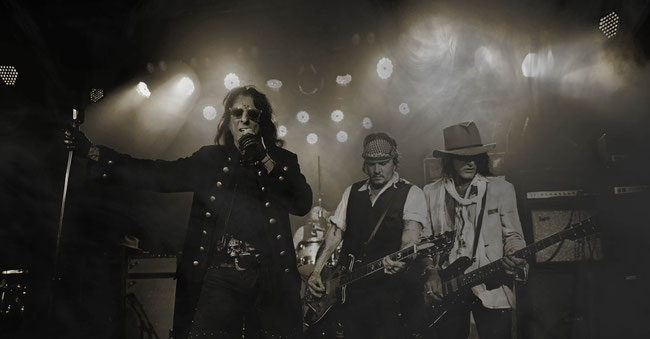 Hollywood Vampires played four North American shows over the past week giving UK fans a possible insight into what to expect from their upcoming tour.
Alice Cooper, Johnny Depp and Joe Perry's quartet of American and Canadian shows were their first headline dates in more than a year and the sprawling 19-song setlist featured six Hollywood Vampires tracks - 'Raise the Dead', 'My Dead Drunk Friends', 'As Bad As I Am', and new compositions 'I Want Mine Now', 'The Boogieman Surprise' and 'Bushwackers'.
Drawing from their own distinguished musical archives, Aerosmith's 'Sweet Emotion', 'Train Kept A-Rollin' (originally by Tiny Bradshaw) and 'Combination' together with Alice Cooper's 'I'm Eighteen' and 'School's Out' also featured.
Guitarist Johnny Depp took on vocals for David Bowie's  'Heroes'.
Hollywood Vampires  Italian dates:
7 July on the stage of the Lucca Summer Festival
8 July on the stage of the RockInRoma - Roma Summer Festival


"Heroes (Johnny Depp Vocals)" Hollywood Vampires@Sands Bethlehem PA Center 5/21/18