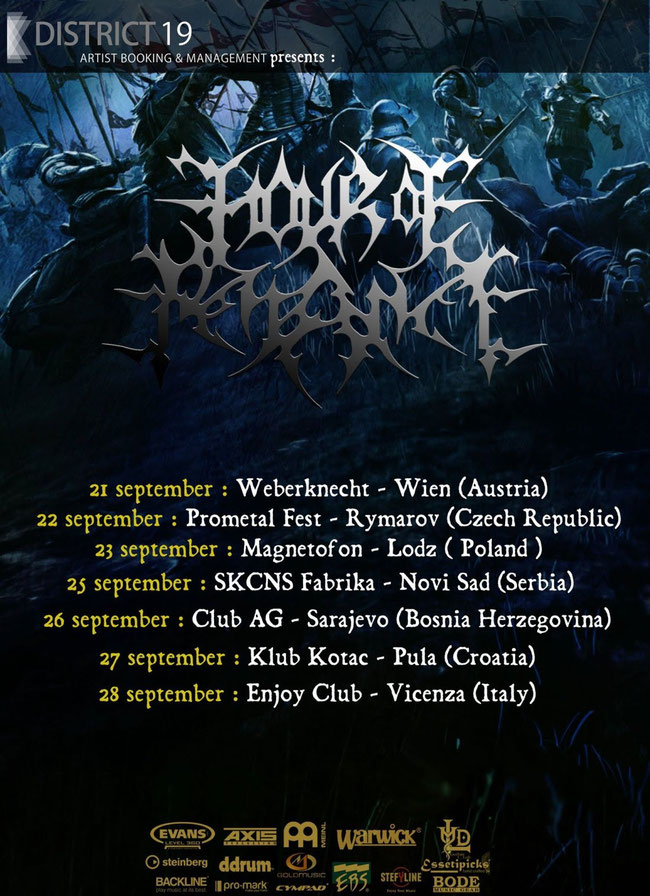 Italian death metal masters HOUR OF PENANCE have just announced more tour dates in support of their last album "Cast The First Stone". The trek is kicking off in September 2018.

21/09/2018: Weberknecht - Wien (Austria)
22/09/2018: Prometalfest - Rymarov (Czech Republic)
23/09/2018: Magnetofon - Lodz (Poland)
25/09/2018: SKCNS Fabrika - Novi Sad (Serbia)
26/09/2018: Club AG - Sarajevo (Bosnia Herzegovina)
27/09/2018: Klub Kotac - Pula (Croatia)
28/09/2018: Enjoy Club - Vicenza (Italy)
Recently HOUR OF PENANCE celebrated the 10th anniversary of the release of their landmark album "The Vile Conception" by releasing the rare "Promo 2007" on Bandcamp. Thanks to the "Promo 2007" the band secured a deal with legendary American label Unique Leader Records (Deeds Of Flesh, Disgorge, Beheaded), which originally released the album on February 23rd 2008.

Guitarist/songwriter Giulio Moschini comments:
"To celebrate the 10th anniversary of our album 'The Vile Conception' and to thank all our fans who have been supporting Hour of Penance through all these years, we've uploaded our 'Promo 2007' on our Bandcamp page. This promo was originally sent only to labels and sold in limited quantities. You can now stream those 3 tracks for free via Bandcamp!".
"Promo 2007" tracklist:
1. Misconception
2. Slavery in a Deaf Decay
3. Hierarchy of the Fools

"Promo 2007" line-up:
Giulio Moschini: Guitars
Francesco Paoli: Vocals
Silvano Leone: Bass
Mauro Mercurio: Drums

Line-up 2018:
Giulio Moschini: Guitars
Paolo Pieri: Guitars, Vocals
Marco Mastrobuono: Bass
Davide Billia: Drums

HOUR OF PENANCE are currently writing the follow-up to "Cast the First Stone" (Prosthetic Records, 2017).

facebook.com/hourofpenance
hourofpenance.net