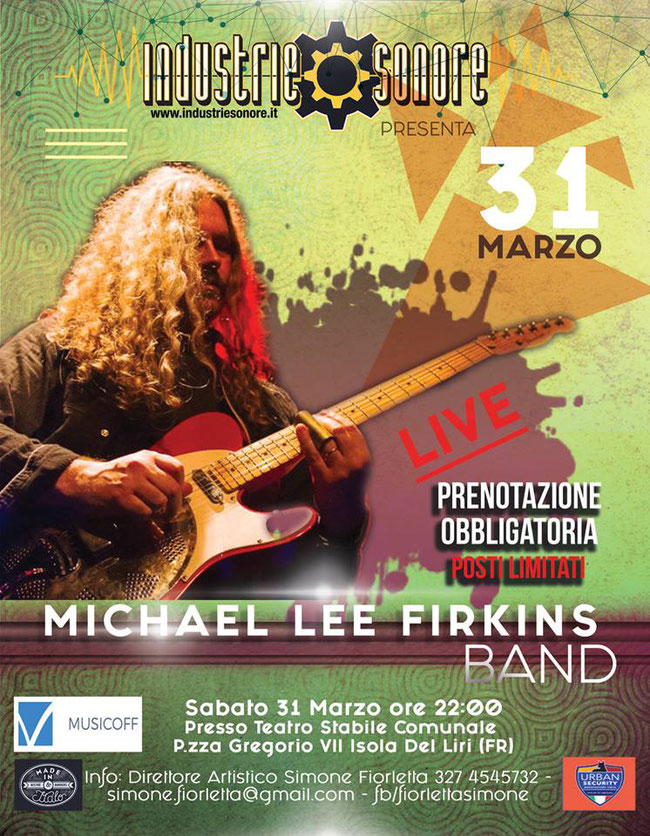 Industrie Sonore di Marco Di Folco, with the artistic direction of Simone Fiorletta, is pleased to present the concert of the historic American guitarist "Michael Lee Firkins Band" for March 31, 2018.
The event will be held at the Teatro Stabile of Isola Del Liri (FR) under the organization Industrie Sonore.
To find out how to take part in the event, interested parties must request information at the email address studioindustriesonore@gmail.com or write privately via the Industrie Sonore facebook page; or contact the Artistic Director Simone Fiorletta (327 4545732 - fb / fiorlettasimone - simone.fiorletta@gmail.com)

Lee Firkins is a true virtuoso of the blues guitar, country and southern rock, however, able to merge these genres even with harder rock and even shred.
Just this audacious stylistic mix between country and shred is the key to the success that Firkins obtained in his debut, in 1990. His debut album of his debut came out for Shrapnel, the same label that in those years is churning out and discovering talents as Paul Gilbert, Richie Kotzen, Vinnie Moore, launching shred fashion. "Michael Lee Firkins" is a record triumph that made a bang selling 100,000 copies; Lee Firkins was voted by the readers of Guitar Player as the best American guitarist and for the next decade he remained one of the most respected guitarists by insiders.
Many jobs and experiences collected by Firkins over the years and even if in Italy it did not succeed in obtaining a great consensus, still is a great guitar hero of the American world.
2009 Kickoff Event - Michael Lee Firkins - Fender