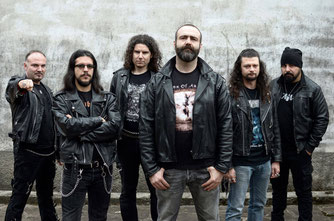 The DRAKKAR, pioneers of the Italian Power Metal scene, have completed the recordings of their new release entitled "Cold Winter's Night", a 4-tracks EP ready to see the light on My Kingdom Music on April 27th.
The album will be released in digipack-CD format with three new songs plus a live track as a bonus, but also in ultra-high-quality vinyl with the cover of DIO's classic "Rainbow In The Dark" as a bonus track revisited at the Drakkar style.
This will also be the first release with the new line-up featuring new members Marco Rusconi on guitars, Simone Pesenti Gritti on bass and Daniele Ferru on drums.
The new release will be officially presented in two major concerts, on April 27th at the Dagda Live Club in Retorbido (PV), and on 28th at Pavilion 14 in Collegno (TO) together with the German Power Metal legend IRON SAVIOR and the Italian AIRBORN.
HEAVY METAL NEVER DIES!