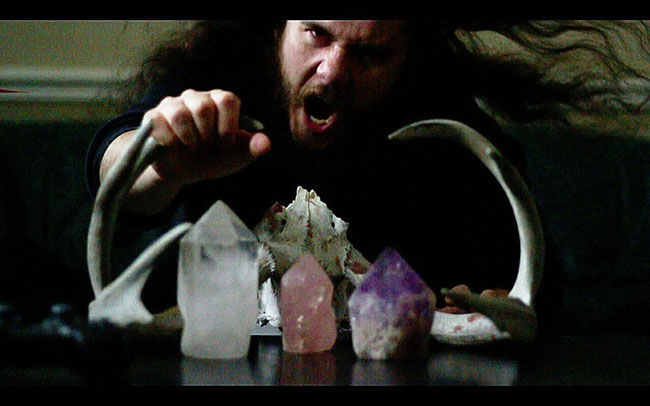 DEEP DARK RIVER, the acoustic doom, folk, blues, ambient and soul side project from Vesperia's Morgan Rider has posted a new video covering GHOST's "Square Hammer".
Rider comments:
"This week I created a blues version of Ghost's single 'Square Hammer'. I knew I wanted to do something a little different with this video when I noticed my stag skull as well as my wife's geode collection. They made a couple awesome elements for this video. Enjoy the video! Be sure to subscribe to my channel! I upload new videos every week."
Rider was inspired to create DEEP DARK RIVER by the works of his close friend David Gold (Woods of Ypres). DEEP DARK RIVER's self-titled debut album is currently being recorded and is planned for a 2018 release featuring all original tracks. Rider has performed across Canada, USA and Europe with a variety of heavy metal groups such as Vesperia, Crimson Shadows, Woods of Ypres and SIG:AR:TYR .

DEEP DARK RIVER's previously unleashed cover of Woods of Ypres' "Allure of The Earth" was in tribute of the memory of dear friend David Gold. The video was shot in Whitby, UK, Sherwood Forest, UK and Clarington, ON.
For more info:
http://deepdarkriver.com
https://www.youtube.com/channel/UCcWVQO3a8T-4Ug9gCACBGXA
http://instagram.com/deepdarkriver
http://facebook/com/deepdarkriver
http://twitter.com/deepdarkriverca
http://deepdarkriver.bandcamp.com
Deep Daark River - "Square Hammer" Official Video