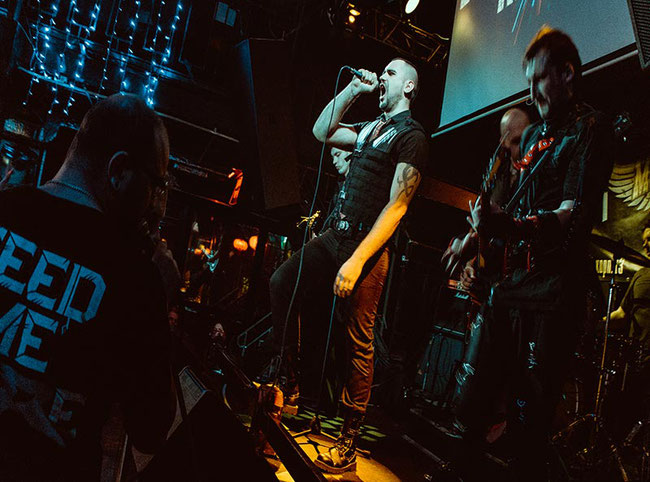 The Russian band (St. Petersburg) Laufderzeit signs a promotion and distribution contract for the Ghost Label Record. The album will be available by the end of February in Digital and Online in the channels of the Crashsound Distro.

Bio:
Laufderzeit (in German "flow of time") is a Russian Electro-Metal band from St. Petersburg. The band has a German name as the beginning of their creative work Laufderzeit was influenced significantly by German metal culture. The band was formed in 2012 by Pavel (Manul) and Konstantin Brand.
The first demo-album "Die Grenzen der Zeit" (horizont of time) was published in 2014. It can be described as a fusion between Industrial Metal and Gothic.
The second album "Zeitapocalypse" was released in 2016 and had a more electronic sound.
At the end of 2018 Laufderzeit will publish the third album "Your special way" composed of 2 parts. The changes will take place as the artists are in constant search: the sound and style will change a bit 'and become more electronic, will appear elements of music trans, dance and dubstep. The texts of the third album will be dedicated to existential questions, to the theme of heroism and the power of love. If you ever think of your special way this album is for you.
Tracklist
01) Spring, that won't Come
02) Start a Fire
03) The Last Dance of the Stars
04) Your Special Way
05) Heroes Live among Us
06) Do It
07) The Last Dance of the Stars  (feat.Valen'TIME)

Line Up:

Manul - arrangement, rhythm guitar
Konstantin Brand - vocal
Mr. Saturn - programming, post-arrangement
Schwartze Katze - Bas-guitar
Gore - rhythm - solo guitar
Alexandra - lyrics
Soc ials Links:
Official Website                                                                                                                     
Facebook                                                                                      
Instagram
YouTube                                                   
SounCloud
VK


Laufderzeit - "Atomherz" Official Music Video