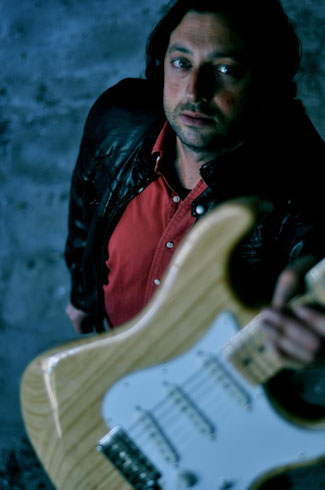 The great success of "LAMPO GAMMA", the new album released in May, reviewed by critics and experts, among other things such as: "......" A PERFECT PRODUCTION ... OF INTERNATIONAL LEVEL ... ", ..." ONE OF THE BEST DISCS USED THIS YEAR "(all the reviews are available on the website http://www.andreasalini.com/recensioniinterviste/), is the confirmation in the music scene that the singer-songwriter- guitarist in the province of Rieti, ANDREA SALINI, is among the best Italian "rockers".
"My album is the result of an international collaboration, with texts in English", from 1 February, "LAMPO GAMMA" is available on 35 digital stores, such as:
iTunes, Spotify, Apple Music, Amazon Music, Google Play, Napster, Deezer, YouTube Art Tracks, Simfy Africa, iHeartRadio, MediaNet, VerveLife, Tidal, Gracenote, Shazam, 7Digital, Juke Music, Slacker, KKBox, AKazoo, Anghami, Spinlet , Neurotic Media, Yandex, Target Music, Claro Music, Zvooq, Saavn, NMusic, 8Tracks, Q.Sic, Musicload, Kuack, Pandora and Boomplay Music.
ANDREA SALINI (IL LUPO DEL ROCK), available his new album "LAMPO GAMMA" on the main Digital Stores.
To announce this event in the best possible way at the same time, the new video of the single "DISTANT PLANETS" was released.
The song, "DISTANT PLANETS" (the second track of LAMPO GAMMA) was among other things chosen by the organizers of the "SANREMO ROCK" festival to participate in the selection of the 31st edition.
From the beautiful song was also made an extraordinary video that well photographed the contents of "DISTANT PLANETS".
The description of the director MATTEO BANCHI "... The videoclip explores the theme of the text, framing the reunification of the individual with nature from which modern life tends to distance us.The video was shot in suggestive corners of Lazio, Umbria and Abruzzo, up to the heights of the "Monti della Laga." It is a particularly evocative project that of Andrea Salini, who brought the crew members in contact with rain, snow, temperatures below zero ".
To underline the impeccable and involving interpretation of RAFFAELE DE VITA, the superb direction of MATTEO BIANCHI, is the splendid work of the rest of the troupe: NICCOLO 'GIANSANTE (photography), RICCARDO SACCHETTO (assistant director) and CRISTIANA ZONCU (make up / styling) ).Questo il link del video "DISTANT PLANETS"
Next lives:
- Saturday 17 February h. 21.30  - MONTEROTONDO SCALO (ROMA) VIA ALDO MORO 18 b - CENTRO DI AGGREGAZIONE GIOVANILE  "IL CANTIERE" -
- Saturday 3  March h. 21.00 - SELEZIONI "SANREMO ROCK"  - "CLUB GROOVY" - TERMINILLO (RIETI) - VIA DEI CERRI  9
- Saturday 14 April h. 21.00 - TEATRO COMUNALE "S.AGOSTINO" - ANTRODOCO (RIETI)

CONTACTS AND INFO:
Official Site
Facebook
email: lampogammasalini@libero.it


"Distant Planet" Official Video