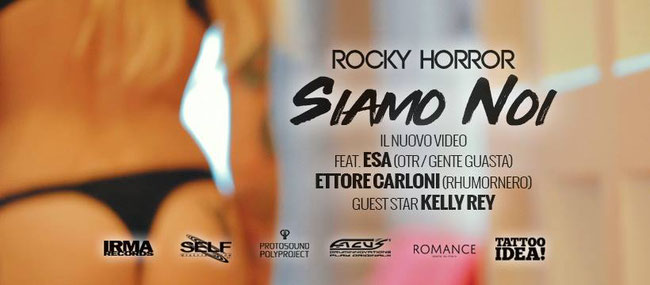 "Siamo noi", this is the title of the new single and video of Rocky Horror, realized in collaboration with Idea Tattoo and with a protagonist of exception: Kelly Rey, Italian playmate of Playboy.
Seduction, charm and a strong female figure, independent and out of the schemes.
The passage, that boasts the collaborations of Esa (Spoiled OTR / People) and Ettore Carloni (RHumornero), ago from the album "Un Salto Nel Buio" (Irma Records / Self Distribuzione), the third studio album of the band, reaches of guests as the precedent "Sciogli Il Tempo" ('15), whose gone out it is anticipated in the next months.
After the great success of the side project Pino Scotto & Rocky Horror, the band returns with a work that promises to return the Rock to the social themes.
It doesn't stay therefore us whether to enjoy us this new videoclip, waiting for to be able to appreciate live again them with a tour that is preannounced rich of appointments and novelty.
Ufficio stampa:
PROTOSOUND POLYPROJECT Facebook
Rocky Horror - "Siamo Noi" ft. ESA (OTR / GENTE GUASTA) ed Ettore Carloni (RHumornero)
Official Video