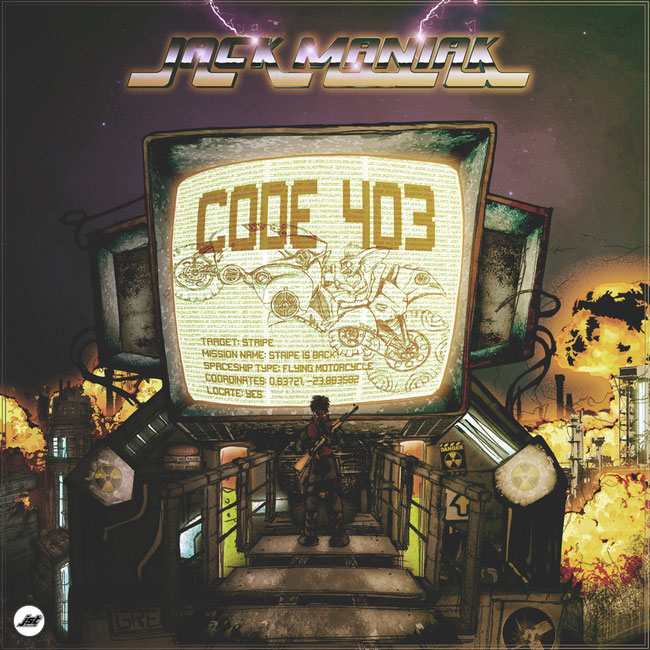 Artist: Jack Maniak

Album: Code 403

Label: Jet Set Trash Records

Release date: November 20, 2017
Facebook

Tracklist

01. Stripe Is Back

02. No Fate

03. Code 403

04. Final Departure

05. Tribal Mob

06. The Guardian

07. Space Invaders

08. Dangerous Night

09. Sky Demons

10. Glory

Jack Maniak is the brand new one-man synth-wave project, created by the French musician Jean-Philippe, drummer and keyboardist of the band Death Metal Idensity and OMRÅDE.
The First album "Code 403" released on digital the 20th November 2017 on Jet Set Trash Records is a mix of electronic/synthwave sound and hard rock.
In this first album "Code 403", via JST Records, Jack, a human teenager with special abilities, is saving the world against an alien invasion. Who grow up in the '80s, will be surprised by the electronic wave in this work, and it's just to those years that Jack Maniak founds the right inspiration to write these ten, all instrumental, tracks. There's a whole world behind the synth wave era, and "Code 403", represents a good slice of it. The album is opened by "Stripe Is Back", surely allusion to Stripe of Gremlins, disturbing atmosphere, alleviated with synthesizers sound. "No Fate", it's an evocative '80s action movies, such a nice track but it's "Code 403" that throw us in the eighties, perhaps the most interesting piece of this album.
"Tribal Mob", the fifth track with a vocal intro, gives the idea of the Alien invasion we're waiting for. Follows "The Guardian" that reveals itself more violent and marked, with of electric guitar addition in a horror and desolated land. "Space Invaders", with a stable rhythm in its beginnings, to accelerate over the piece.  "Dangerous Night", a dark sound floods this track. "Sky Demons" announce a "Glory" the end of Jack's adventure. The modern approach is evident, the sound is a mix of horror space, melodies, hard rock, distorted basslines, and a lot of synth leads, creating an album that lure enough of attention. 
For fans of Perturbator. I imagine Jack, a little boy half dark, half nerd, that defends the earth with his superpowers, more or less like the 70's- 80's Japanese' anime.
Valeria Campagnale